May 6, 2013 - 1:54pm
Three Batavia churches hit with anti-religious graffiti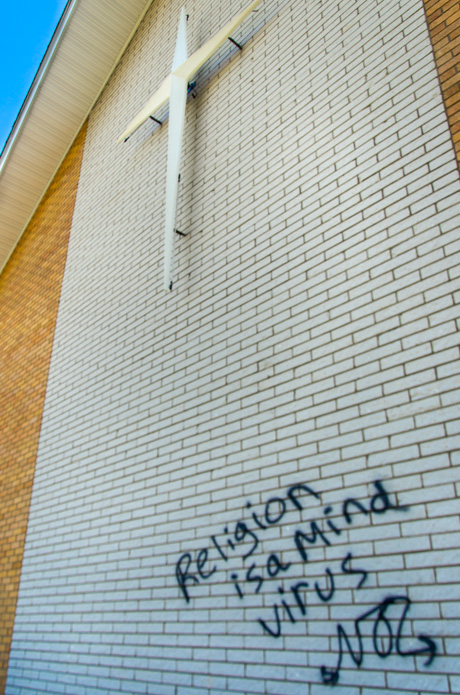 An anti-religious vandal damaged three church buildings in Batavia overnight.
The person used black spray paint to scrawl "Religion is a mind virus." 
At Grace Baptist Church, 238 Vine St., the tag "NOZ" was added.
Also struck were the Assembly of God at 24 N. Spruce St. and City Church downtown on East Main Street.
The perpetrator, if ever caught, is facing possible prosecution for a hate crime under New York law, said Officer Jamie Givens, who is handling the investigation.
She said the other charges include graffiti and criminal mischief.
At City Church the phrase was sprayed on glass and was easily washed away by church staff.  At Grace Baptist the vandal damaged painted brick, and at Assembly of God, wood, which will be more costly and difficult to repair.
In all three locations, Givens said, the vandal used black spray paint and the handwriting matches in all three cases.
Nobody has reported seeing anything suspicious around the churches last night and there are no suspects or suspect descriptions available.
There were no cameras in the area that could be used to help identify the suspect.
There are no other reports so far of other churches being hit.
Givens said there's no apparent "rhyme or reason" as to why these three churches were targeted.
Anyone with information that may assist the investigation can contact Batavia PD at (585) 345-6350.

My visceral reaction coincides with Doug's; I'm not opposed to it.
That being unlikely and taking into account the offender/offender's age/ages, past criminal history if any, etc; I would say a public apology to the congregations of the defiled churches might be appropriate.
This should be followed by hundreds of hour's community service like cleaning up after the dogs and cats at the animal shelter or picking up trash in the city parks.