March 19, 2014 - 11:45am
Town of Batavia fire lays out plans for new Station 2 in Stringham Drive area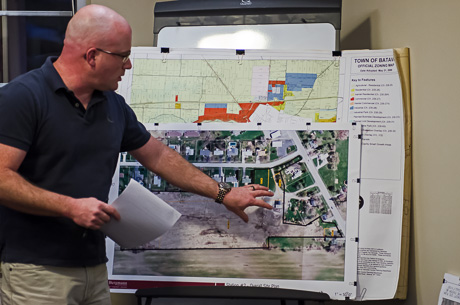 The ball is rolling on a new fire station in the Stringham Drive area for the Town of Batavia Fire Department.
The first steps were taken toward plan approval last night at the Town of Batavia Planning Board meeting when the board agreed to seek lead agency status for the environmental review process.
David Morrill, building committee chairman for the department, presented initial site plans to the board during the meeting.
The department has acquired 12 acres between Clinton Street Road and Stringham. The acreage runs west roughly to the area of North Street, but the back of the lot won't be used by the department. The seller didn't want to keep the potentially landlocked parcel. The department may someday sell that portion of the property.
The plan calls for a firehouse with drive-thru bays large enough to accommodate a new engine and a new ladder truck, as well as space for administrative offices, a kitchenette, a turn-out gear room, a washroom and storage.
The primary entrance and exit will be on Stringham with a secondary driveway on Clinton Street Road.
The new station will replace a small firehouse at the corner of Stringham and Clinton.
"We've long since outgrown that station as our trucks have gotten bigger and our equipment has gotten more specialized," Morrill said.
Besides conducting fire calls out of the station, the department will use the facility twice a month for Monday night training, which usually runs from 7 to 9:30 p.m.
"Other than that, you'll hardly know we're here," Morrill said.
There will be no big fundraisers held at the new station, no carnivals, and the annual Harley Raffle will continue to be held at Station 1 on Lewiston Road.
"There will be no Ferris wheels in your back yard," Morrill said.
With growth at the ag park, fire officials see the need for a ladder truck on the east side of the Town of Batavia. The location, however, needed to be on the college side of the train tracks running through the town to aid in responses to GCC and College Village.
The department plans on acquiring a 75-foot "straight stick" (no platform) ladder truck within 12 to 18 months. It will also purchase a new, larger rescue truck.
The department will retain the old fire station at Stringham and Clinton for the time being. It will be needed for storage once the department's current rec hall on Lewiston Road is torn down to make room for a new station there. Long-term, the department hasn't decided what to do with the property.