September 9, 2012 - 1:08pm
Traffic congestion minimal prior to sold out Zac Brown concert at Darien Lake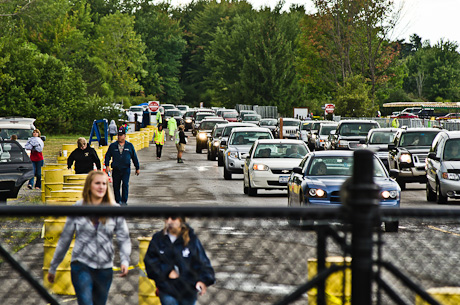 At 5:30 p.m., traffic entering Darien Lake for the Zac Brown Band concert Saturday night moved briskly and the lines on Route 77 from both the north and south were less than a half-mile long.
That wasn't the case two weeks ago for the Jason Aldean concert, when all of the roads around the concert venue were heavily congested and it took some patrons hours to get into the parking lot.
Traffic didn't clear until nearly 8 p.m. that night.
Last night, by 7 p.m., there were no cars waiting in line to enter the facility.
"We left our hotel at 7 and were in the park grounds by 7:15," said Syracuse resident Shannon Coholan.
Several other Zac Brown Band fans shared similar stories. None of the concertgoers interviewed Saturday said they experienced any kind of delay entering the venue.
"So far, this is a million times better," said Ashlee Miller, of West Seneca, who attended the Aldean concert. "There is probably triple the people directing traffic.  Everything was a million times easier. Walking in right now, a million times easier. It was horrible last time."
Officials were also pleased with the results, which they attributed to adjustments by the Sheriff's Office and Darien Lake in how traffic was directed and changes in access points.
A polite, mature and well-behaved group of concertgoers also helped make things go smoother, officials said.
Asked for his assessment on the inbound traffic situation, Chief Deputy Gordon Dibble said, "Outstanding."
"We were worried because once again, traffic didn't come in early," Dibble said. "You would think you would have a last-minute rush, but it cleared up fast. It cleared out by 7. That's just outstanding. There is no other way to put it."
Gerald Rakestraw, VP of development for Darien Lake's owner, Herschend Family Entertainment, said there were several adjustments made by park officials following the Aldean concert.
He described the changes as:
Active inbound traffic management from the toll booths to the checkpoint;
Allowing inbound traffic through the performing arts center exit to relieve congestion as needed;
A defined and communicated plan for taxis, limos and parental drop-offs;
More staff directing traffic;
Further reducing pedestrian traffic at the area known as "the crossover."
"The crossover" is a two-lane roadway that flows east and west and crosses the north and southbound Employee Road. It's a main connector between the front entrance on Route 77 and the grass lots on the east side of the property.
Keeping Employee Road clear of inbound concert traffic, including VIP parking and pedestrians, allows the crossover to flow more consistantly and evenly. 
In the past, when the private parking lots on Sumner Road were open, the crossover was usually heavily congested with both cars and pedestrians. 
At the end of concerts back then, the crossover couldn't even be used for outbound traffic until more than an hour after a concert ended because of heavy pedestrian traffic exiting to the private lots.
Yesterday, the only private lot operating was Cherry Hill Campground and there was a minimal amount of traffic coming from the lot to the concert.
Afternoon rain may have kept many Zac Brown fans from attending the show earlier, but the late arrivals helped Darien Lake officials test their new parking plan.
Rakestraw said the learning process is ongoing and officials will continue to evaluate the process and make adjustments as needed.
"Tonight was a good night," Rakestraw said. "I think we've been able to learn from our experiences thus far and we did some things to facilitate a quicker parking experience."
He said the plan used for Zac Brown was built around providing "relief valves" to move traffic to alternate routes when congestion started to build.
"If we have a 22,000-person show and people choose to all come at the same time, there is going to be some level of back-up," Rakestraw said. "We encourage people to come earlier in the day and enjoy the park or enjoy themselves with their friends. It worked out well today, even with the weather."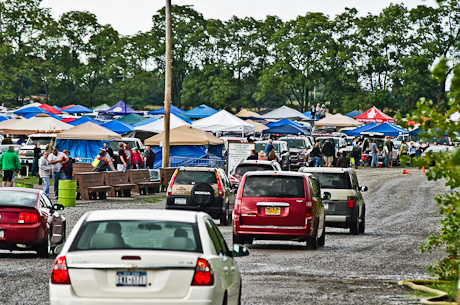 September 9, 2012 - 4:10pm
#1
I wonder where all the opinionated people that said the parking situation was permanently messed up, and wait til the mess @ Zac Brown concert happens? Looks like everything turned out ok, what are ya gonna do if the rest turn out this smooth as well? Finally accept the changes maybe?