November 4, 2013 - 8:58pm
Two local residents receive statewide Mental Health Association awards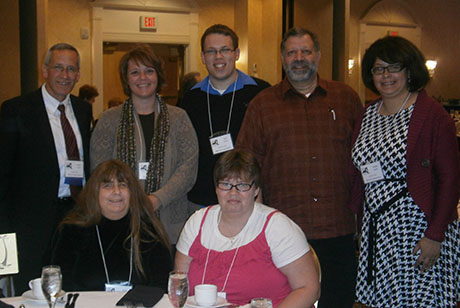 Press release:
Two individuals from Genesee County were presented with awards at the MHANYS Awards Dinner in Albany on Thursday, October 24th. The evening is a highlight of the year in MHANYS. Those being honored are symbolic of the kind of people who work tirelessly every day, with little recognition, to help make lives better for people with psychiatric disabilities.   
MHANYS Volunteer of the Year Award: Sueann Schramm has devoted her time and care to the MHA in Genesee County for many years. She has volunteered numerous hours to the programs, workshops and activities that are provided by the MHA. As a volunteer, Sueann is a co-facilitator for two important MHA support groups, Survivors of Suicide Support Group and Life Bridges Trauma Support Group. Each time the group meets, Sueann ensures that the participants feel that they are in a comfortable and safe place.  Her care for others also extends to the agency's Warm Line program. Sueann is a long-time, dedicated, volunteer listener. The support she provides to callers is unmatchable and she is often asked for by callers because of the comfort she is able to instill. 
Through her work, Sueann is dedicated to removing the stigma of mental illness. She is always willing to share her story to inspire change in others. "Sueann is one of those rare individuals that does what is right, not for recognition, but because it is right," says Betty Raponi, Relief Worker at the MHA in Genesee County.
MHANYS Friend of the MHA Award: Detective Sergeant Patrick J. Corona has served the Batavia City Police Department in Genesee County for 28 years. Throughout the years, Detective Corona has worked directly with the MHA in Genesee County to promote wellness in the community. He has had a direct impact on MHA events such as the Suicide Prevention Coalition of Genesee County, Criminal Justice Day and the MICA/Trauma Task Force. In recent years, Detective Corona has taken on the responsibility of planning trainings that address the challenges returning veterans face and the implications of human trafficking. Detective Corona has continuously dedicated his time to learning about mental health needs and to improving the lives of people in Genesee County.
November 6, 2013 - 7:45am
#1
Congratulations! thank you so much for your time and effort to aide our citizens.