November 6, 2013 - 5:06pm
U.S. Gypsum pouring cement down holes next to Judge Road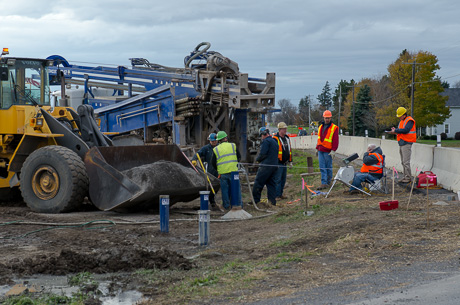 Crews apparently from U.S. Gypsum have been working recently at the corner of Hutton Road and Judge Road in Oakfield.
The location is adjacent a site of a large depression that appeared in the roadway a year ago.
Crews appear to have dug four shafts into the ground and are pouring cement down the shafts.
The supervisor on site couldn't speak about the project and referred The Batavian to a company supervisor. That person has yet to return our phone call.
It's never been officially confirmed, the location is rumored to be an abandoned U.S. Gypsum mind shaft.
UPDATE 5:20 p.m.: Jim Perry, plant manager called. A few weeks ago, the company drilled some holes to take a look in the old mine that is at that location. They are no filling the holes and putting in grout to "shore things up," Perry said. The company is working with the DOT and DEC on the project. Asked if their exploratory drilling found any issues he said, "there were no surprises."
November 7, 2013 - 8:07am
#1
"there were no surprises."? that's rather vague.
November 7, 2013 - 8:39am
#2
I agree Dave. Vague to the point that they found something they expected, which is nothing; or found something they expected, which is something and the cause of the holes and cement.
November 13, 2013 - 3:03pm
#3
I have been looking for and researching mines in Oakfield. I can't find one single map of the actual mine or its shafts.
I would be curious if someone has some insight on that.
Or where I might go to see such a map?