May 11, 2012 - 3:18pm
While Ranzenhofer claims neutrality in congressional race, petitions for Collins seem to tell a different story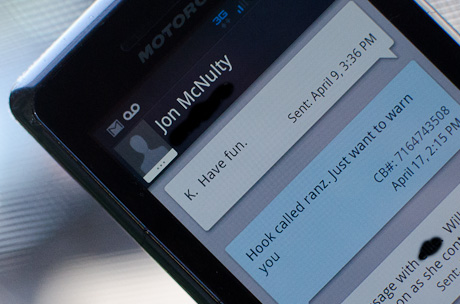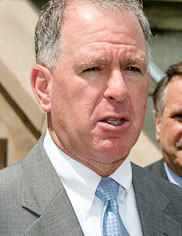 Petitions filed by the campaign of Chris Collins to help the Erie County millionaire qualify for the Conservative line on the NY-27 Congressional District ballot indicate Sen. Mike Ranzenhofer may not be as neutral in the race as he claims to be.
Though, even after being told of the petitions, the senator maintained he is staunchly neutral in the race.
"I have not endorsed and I will not endorse," Ranzenhofer said. "It's important that the voters in the district decide who will represent them in the general election. I do not even live in the district."
Ranzenhofer's involvement in the race became an issue last week when a former staff member told the Buffalo News she believed she was fired from the senator's office for supporting David Bellavia, the Iraq War veteran running against Collins.
The Batavian has obtained a half-dozen pages of Collins petitions (PDF) that indicate that paid legislative staff who report to Ranzenhofer worked in a coordinated manner to help gather signatures for the Collins campaign.
The fired staffer, Michelle McCulloch, a 45-year-old Attica resident, mother of four children, and Wyoming County GOP Committee member, said the message was sent loud and clear to staff members that Ranzenhofer expected all hands on deck to help Collins.
"This is a primary race," McCulloch said. "There are two candidates. If the senator wants to be neutral, that's a great thing to do, but when you direct your staff to do something else, that's a whole other thing."
After numerous attempts this week to get Ranzenhofer on the phone to discuss this issue, the senator called The Batavian today and denied that he directed staff members to gather signatures for Collins.
Ranzenhofer said that he cannot discuss specific personnel matters, but did say he "disagreed" with the assertion by McCulloch that he directed staff to help the Collins campaign.
"I believe I have staff members who are helping both candidates," Ranzenhofer said. "It's not unusual for staff members to circulate petitions for candidates and it's my belief that staff members have circulated petitions for both candidates."
Bellavia said he's only aware of two Ranzenhofer aides who have done anything for his campaign.
But McCulloch isn't the only member of the Bellavia steering committee who was harassed in his or her place of employment after the steering committee was announced, Bellavia said.
He's offered all steering committee members the chance to remove their names from the publically available list, but none have accepted the offer he said. He did add, however, that three new steering committee members asked that their names not be added to the list for fear of reprisal.
Also on the steering committee is Jay Grasso, a former Genesee County legislator who represents Ranzenhofer in the county.
Grasso has declined repeated requests for comment.
While Grasso and McCulloch have been publicly associated with the Bellavia campaign, all indications from McCulloch and other sources are that what they've done for Bellavia, they've done on their own.
The Collins petition effort, however, has the appearance of being a coordinated effort directed by somebody in authority.
The six staff members involved in the petition drive for Collins are all notaries public, enabling them to collect signatures across party lines (it's not uncommon for aides to be notaries just for this purpose). 
The petitions were for signatures on the Conservative line.
The petitions were passed only in Newstead and Akron (with some spillover into Clarence), which McCulloch said was a conscious decision by the Collins campaign not to bother with collecting signatures in any of the GLOW counties.
The staff members involved were McCulloch, Emily Berry, Dan Aikin, Jon McNulty, Kathy Donner and Carol Wojkowski.
And while Bellavia-supporter McCulloch gathered signatures for Collins, she said she only did so because she felt directed to take part in the effort.
In an interview with The Batavian today, McCulloch detailed why she believed she was fired for her support of Bellavia, who currently lives in Batavia and is a lifelong GLOW-area resident.
On April 17, Bellavia's campaign released the names of people throughout the NY-27 serving on his steering committee.
Within minutes of the news of the steering committee coming out, Ranzenhofer staff member and Collins ally McNulty sent McCulloch a text message that read, "Hook called ranz. Just want to warn you."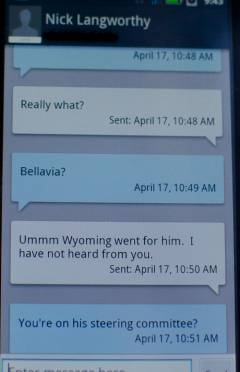 "Hook" refers to Michael Hook, a Washington political consultant who has worked on previous Collins campaigns (and may be working with Collins now, though it's not been publicly announced since Hook has been tainted by the campaign losses of Jane Corwin for Congress and the last Collins campaign for Erie County executive).
It was Corwin's loss that led McCulloch to seek a job with Ranzenhofer, whom she respected and thought would be a good elected official to serve. 
Previously, McCulloch had worked for Rep. Tom Reynolds until she took a position on Chris Lee's congressional campaign in 2008 and then she worked for Lee until Lee resigned in disgrace.
After the "Craigslist Congressman" resigned, McCulloch retained her job in the congressional office, which was ordered to conduct all of its business, on and off the clock, in a nonpartisan manner, so McCulloch was not in any way involved in Corwin's campaign.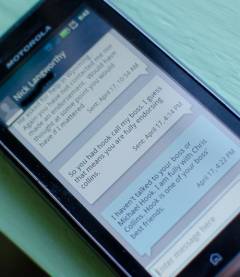 A couple of hours after McNulty's message, Erie County GOP Chairman Nick Langworthy sent text messages to McCulloch questioning her support of Bellavia.
Up until this incident, McCulloch said she considered Langworthy a good friend -- he had been over for family dinners and taken her sons to sporting events.
While Langworthy hasn't publicly endorsed Collins, in political circles he's considered a Collins ally and in his text to McCulloch he made it clear he supported Collins.
In a response to Langworthy, McCulloch suggested Langworthy had called Hook.
Langworthy responded, "I haven't talked to your boss or Michael Hook. I am fully with Chris Collins. Hook is one of your boss' best friends."
Ranzenhofer said he's been good friends with Hook for more than 30 years, going back to a time before either were in politics and both were in Jaycees.
When McCulloch returned home that day, she received a call from Ranzenhofer.
"He discussed his displeasure with me being on the steering committee, that it didn't matter that it was in Wyoming County or not, whether I was a committee member or not, and that further political actions by me needed to be reported to him immediately," McCulloch.
She said it was noteworthy that Ranzenhofer didn't demand that she resign from the steering committee.
On April 26, Bellavia called McCulloch, she said, and asked if she would be willing to introduce Bellavia to Republicans at a fundraiser later that night in Attica. Since she was a steering committee member, a county committee member and a lifelong Wyoming County resident, so McCulloch agreed to introduce Bellavia around.
Wyoming County is entirely outside of Ranzenhofer's senatorial district.
She said she introduced Bellavia to five or six people that night.
The next morning, McCulloch said she sent an email to Ranzenhofer and to his Chief of Staff Kathy Donner informing them of her political activity, which she understood to be the direction given to her by the senator.
The following Friday, Donner called McCulloch into her office and told her her services would no longer be needed.
There was no explanation given for her termination, McCulloch said.
Up to that point, according to McCulloch, she had never been reprimanded, suspended or otherwise given any indication she has not performed her job in an outstanding matter. She said, in fact, she had always been praised for her work.
It was the first time in her life she had been fired.
McCulloch initially didn't want to talk about the situation, she said, but then personnel from state agencies and other elected officials started calling her to find out what was going on.
She didn't want the story to be, even if just in rumor, that she was fired with no explanation, and since she believed she was fired for helping Bellavia, she wanted to tell that story.
"To say I was fired for the first time in my life for a reason that's not there, I couldn't just sit there and let that happen," McCulloch said. "I didn't want to put myself in a position for people to think I was fired for any other reason because it's just not true."
She's also speaking out for the sake of her four children, she said, whom she said she has always encouraged to get involved in politics and support candidates they believe in. She said she thought they shouldn't see her just backing down when she doesn't believe she was treated fairly.
Her firing, McCulloch said, may also make her a rather public casualty of a growing rift between the Erie County GOP -- at least the Langworthy/Hook/Collins wing of it -- and GLOW Republicans.
Many key GLOW GOP activists are supporting Bellavia, and McCulloch said she doesn't believe Collins gets the rural counties. He's hardly even stepped foot into any parts of the district outside of Erie County since the campaign began.
She said the Erie County GOP is trying to bully its way into a primary win.
"It's not about the issues and who the candidates are (with the Erie County GOP)," she said. "It's about their strength and force and what they can do to our rural counties and it's not fair to our rural counties."
Fusion is sleazy, Ranz and Langworthy are sleazier.
Eventually, the Erie County GOP is going to throw Nick Langworthy in the shark tank, but they're probably too slow on the uptake to make it happen before he loses them a couple more elections.
This story has a few angles and the one that interests me most is the ECGOP's disdain for for EVERY OTHER COUNTY IN THE DISTRICT.
The Monroe County GOP Chair even went on TV a few weeks back and told anybody who would listen that apparently Chris Collins doesn't give a damn if he takes a single vote out of Monroe.
Hook and Langworthy may want to have a gander at the new district map, and Ranz should probably join them since SD61 isn't exactly what it was 2 and 4 years ago either.
Pages