November 13, 2012 - 6:36pm
Woman who hit Walmart employee on Christmas Eve scheduled for felony sentencing tomorrow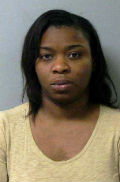 Jacquetta B. Simmons, the 27-year-old Batavia woman convicted Aug. 24 of assaulting a 70-year-old Walmart employee on Christmas Eve will find out tomorrow whether she will be going to prison for any amount of time.
Simmons is scheduled to appear in Judge Robert C. Noonan's courtroom at 9:15 a.m.
Following her conviction in a jury trial, Noonan ordered -- as standard procedure -- a pre-sentence report, which will help form his opinion on what he believes is appropriate punishment for Simmons.
The sentencing options for Noonan on the Class D felony are probation on up to eight seven years in prison.
Simmons will stand before Noonan with no prior criminal record, which will also be a factor in her sentencing.
Another factor will be the letters from community members and family members for both Simmons and the victim, Grace Suozzi, Noonan likely received prior to today.
Suozzi is expected to make a victim impact statement, which could also factor into Noonan's decision.
Court proceedings are open to the public and much of the local and regional media will likely be at the courthouse in the morning.
For previous coverage by The Batavian of this case, click here.
November 14, 2012 - 8:46am
#4
Bob & Gary I as well would like to see Judge Noonan give Jacquettta several years behind bars along with lot's of anger management classes while she is locked up.
Although I have a bad feeling about the sentence that will be giving.Just hope the feeling is wrong.