May 18, 2012 - 2:34pm
Woman who stole from elderly victims facing prison, restitution of more than $330K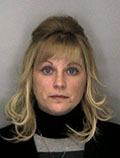 A 40-year-old Batavia woman who bilked two elderly patients out of more than $308,000 faces up to seven years in prison and significant restitution after pleading guilty this morning to four felonies.
Heidi L. Schollard, 161 Bank St., Batavia, entered a guilty plea to three counts of grand larceny, 3rd. Each Class D felony carries a maximum sentence of seven years in prison, but under the plea deal, Schollard's sentences will be served concurrently.
She also entered a guilty plea to grand larceny, 4th, a Class E felony with a maximum sentence of four years.
Schollard is ordered to repay $265,131 to one elderly victim and $43,000 to another, plus $23,414 to the NYS Department of Taxation and Finance and $2,485 to the Department of Labor.
Schollard was initially arrested in December 2010 for allegedly stealing about $250,000 from a Batavia resident.
She was out of jail during the proceedings in that case and was arrested again in March and accused of defrauding another elderly person. The alleged victim in this case is a resident of Alabama.
In both cases, Schollard was reportedly a caregiver for the victims.
Sentencing is set for 9 a.m., Aug. 9.
Lol Lori..made me laugh too.
Victimizing the elderly is so sleazy. Send her off to prison for a long time. People work their entire life, making that sacrifice every day, and they plan on being comfortable in retirement....then someone with no conscience comes along and takes it all away from them in an eye blink...PATHETIC! She'll never be able to pay restitution and those people are forever victims. I hope she has nightmares while she's sitting in prison eating her 10th cup of Ramen noodles for the day.