June 17, 2015 - 8:54am
Batavia native to premiere first symphony in Nashville
For as long as he can remember Batavia native Gary Call Hanley has been surrounded by music. As a child, his grandmother, Leona Pastore, took him to orchestras and encouraged his love for music. It wasn't long before Call Hanley learned to play a variety of instruments and began to play in various bands.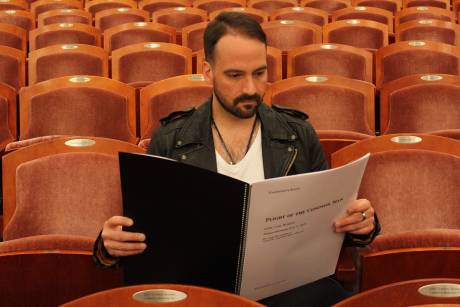 After a few years of touring in Western New York with local bands, he started playing with national bands. He has played legendary venues like New York's CBGB. Now, Call Hanley has planted roots in Nashville, Tenn., as a recording and audio engineer with the Nashville Symphony Orchestra.
On July 3, his composition "Plight of the Common Man" will premiere at the Schermerhorn Symphony Center as part of the "Tchaikovsky's 1812 Overture: A Star Spangled Evening with the Nashville Symphony" event.  This will be the first time in the history of the Orchestra that it plays a symphony written by someone on its staff.
"The 1812 concert is annually one of the most popular performances on our concert calendar," Dave Felipe, publicist for the Nashville Symphony Orchestra said. "It means Gary's work will be heard by upwards of 1,500 or more people along with works by Gershwin, Copland, Barber and more."
Felipe is right. Call Hanley is very excited.
"I don't know of anyone else who has had their first symphony played by a world-renowned orchestra," Call Hanley joked. "I just thought, if other composers can do it, so can I."
So he did.
"Plight of the Common Man," starts off minimalistic, builds up in the middle and comes back to a gentle ending. Call Hanley likened it to the life of man.
"We start off small, we live these big lives, and then we end small," he said.
The title comes from the thought that man is facing a constant struggle.
"Life isn't always a fanfare, sometimes it's a plight," he added. "The challenge is to overcome all of the hardships and heartaches that life brings. With the good comes the bad and with the bad comes the good."
When he isn't writing symphonies or recording for a GRAMMY Award winning orchestra, Gary Call Hanley finds solace in playing with his band Subway Lights. In addition to cowriting songs with his writing partner Alex Quinn, Call Hanley sings lead vocals.
"Music is in my DNA," he said. "I hear melodies and music all the time in my head. If I didn't have those outlets, I think I would be a very sad man."
Call Hanley believes that Western New York holds a great deal of musical talent and he feels lucky to be a part of it.
"I feel very fortunate," he said. "I feel very lucky to be where I am. I am very grateful to that. It's been a lot of hard work, but I've been very grateful."
(Photo: Courtesy the Nashville Symphony.)