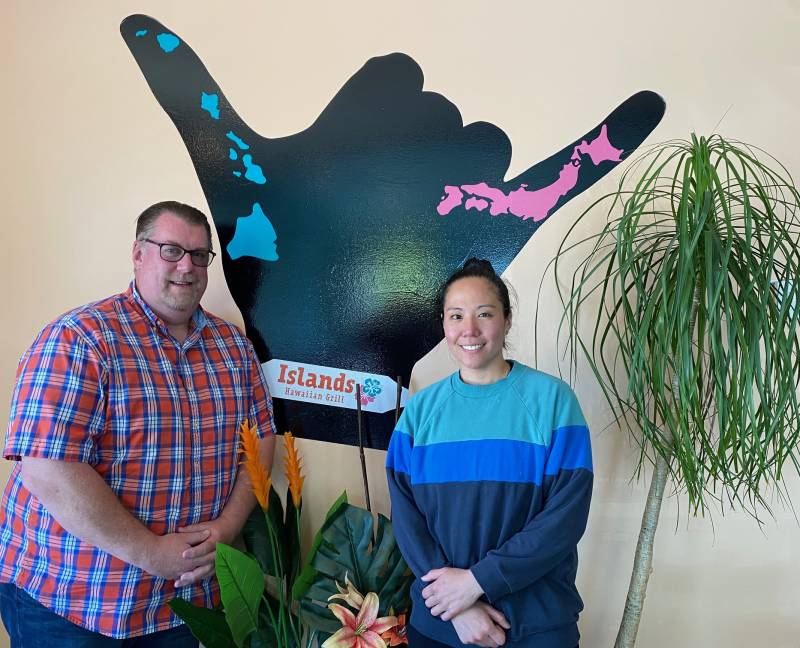 Move over Islands Hawaiian Grill, a new name, concept and slightly revised menu will be truckin' into town within the next month or so, owner Kourtney Kunichika says.
She and business partner Mike McCartan plan to unveil the Islands Hawaiian BBQ food truck by the end of June or early July in Genesee County, with other eventual stops to be in Erie and Monroe counties. The grill's last day will be June 10. 
"What I would like people to come away with is an authentic taste of Hawaiian comfort food. Japanese comfort food. And then the fusion of Hawaiian and Japanese comfort food into something that you can walk away with easy. Or take away easy. Street food, that's what I would like," McCartan of West Seneca said during an interview Friday with The Batavian. "It has to be quality. It does. That's the most important thing. I would like people to walk up, look, maybe (they're) a little bit uneasy. But hopefully, there's a big wide opening smile to draw people in. Just give us a try. Give it a try. You'll like it."
Given the positive reception that the brick-and-mortar restaurant has received in Batavia, Kunichika is confident that people are open to trying new cuisines and will enjoy a taste of the islands once they do give it a try. 
She and McCartan are counting on that willingness to transfer to the food truck concept, which will be a quicker-paced lunch experience for items such as a hot chicken sandwich or a shrimp po'boy, a lunch of white rice and mac salad plate, kalua pork and cabbage, Hawaiian bbq short ribs, fish tacos or a big island burger.
Islands Grill opened in August 2019, and it found success at Batavia City Centre on Main Street with an outdoor patio and a regular customer base, Kunichika said. One "bittersweet" aspect of closing the doors will be "I feel like I let my customers down," she said.
"Because there's a lot of customers, you know, we have a lot of regular customers," she said. "And we want to be able to offer them the island-style food, and show that we really appreciate and acknowledge that they've been very positive and just definitely built relationships with them and friendships that we want to maintain, and see how they're doing and be able to serve them as well."
She recently notified her staff of 10 to 15 employees that June 10 will be the site's last day. Regular business hours for the restaurant will be from 11 a.m. to 9 p.m. June 9 and 10 a.m. to 9 p.m. June 10.
Kunichika and McCartan hope to have the food truck wrapped in its new logo and on display in front of the restaurant for a special Pride weekend and trial run event from 10 p.m. to midnight on June 9.
As they're learning — McCartan especially, since his role is the administrator and taking care of county health department and state permits --  is that paperwork can be a time-consuming process. Fingers crossed, they'd like to be serving out of the truck that evening.
McCartan has been a patron of Islands Grill over the last several months, he said, and he and Kunichika struck up a friendship and have been kicking around ideas for some time now. Add to that the arrival of Ryann, Kourtney and her wife Cait's daughter, and raising a family has added to the stress of restaurant hours and responsibilities, Kourtney said.
"It's hard not owning the building. And I'm realizing parking is kind of tough in this location. But more so, it's me kind of just now having a family — we have a daughter. She was born almost a year ago now," she said. "So I think for me, it's just, I'm looking for something with a little more flexibility while being able to still serve the food I really enjoy, and I want to bring to people still in Genesee County, but also Rochester and Buffalo, I'm hoping to be able to serve them as well."
Anyone with Islands Grill gift certificates may use them at the food truck or redeem them for cash at the restaurant. Food truck hours and dates will be posted online, and the business partners would like to book entire days, versus a few hours at a time, in Genesee County. If any businesses have a parking lot or space for them to set up for a time period, they want to hear from you at [email protected]
This business can even go year-round, McCartan said, and bust through the winter doldrums.
"Say, it's February, and everyone's sick of the snow, and you want to have a little get-together, we'll cater it," he said. "And we'll bring a luau to wherever."
Property owner Ken Mistler said that he has no one going into the restaurant location, which had previously been Larry's Steakhouse. If anyone is interested in a turnkey restaurant, contact Mistler at [email protected]