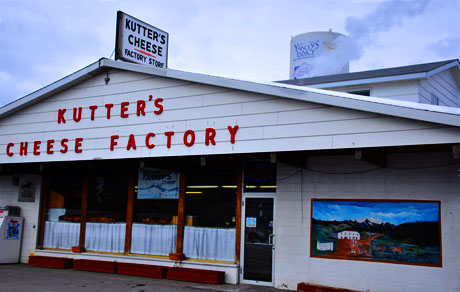 After more than seven decades of selling their popular dairy products, owners Brian and Heather Bailey made the sad announcement Sunday that it was coming to an end for Kutter's Cheese Factory retail store.
"It's with a heavy heart that we have to announce that Kutter's  Cheese Factory Retail Store, after 75 years in business, is closing its doors," the couple posted on its online site. "Conditions (outrageous shipping costs, discontinued cheeses, rising costs on everything, and labor shortages) have made it impractical to continue.
"It's so difficult to say goodbye to our wonderful, selfless and hard-working employees, and to you, our customers," they said.  "We've had the privilege to meet so many wonderful people and exchange smiles and our love of cheese.  Someday we may find our way back to business somewhere, but in the meantime, we'll just say so long for now."
The shop opened in 1947, and during the next 70 years, it continued to expand at 857 Main Road, Corfu, catering to the tastes of cheese lovers near and far.  The Kutter's store was the recipient of an Agricultural Business of the Year Award in 2009.
The owners also wanted to clarify that it is the retail store that's closing, and not the manufacturing business of Yancey's Fancy, which is under separate ownership.
"I hope you will have fond memories of our store and we will most certainly have fond memories of you," they continued.  "God bless you all. Love and Respect, Heather and Brian Bailey, Owners."
Obviously, the feelings are mutual, with several comments from folks expressing sadness and memories about having shopped at the store or family members going there for favorite items (cheese curd was apparently a popular one), even traveling from out of state -- including North Carolina -- to do so.
The owners announced a sale that will run from 10 a.m. to 5 p.m. Monday through Friday.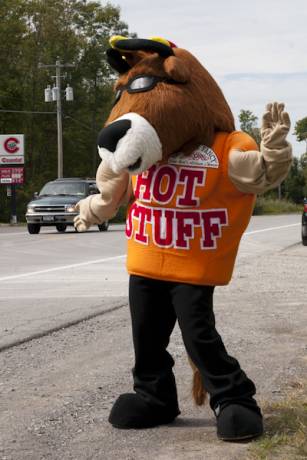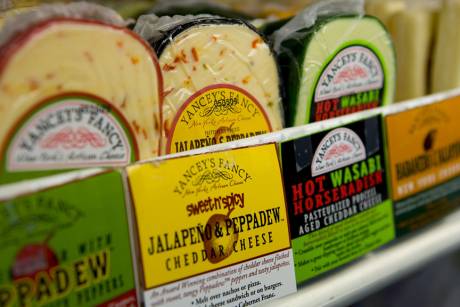 File Photos of top, Kutter's Cheese Factory on Main Road in Corfu, the Hot Stuff Yancey's Fancy buffalo mascot during a Kutters' customer appreciation day, and above, an assortment of cheeses at the shop, by Howard Owens.
UPDATE: There was a long line outside of Kutter's this morning. Photo courtesy WBTA.