June 6, 2014 - 3:00pm
Sponsored Post: The Batavia Lions Club 5th Annual Bike Tour will be held on Saturday, June 14th!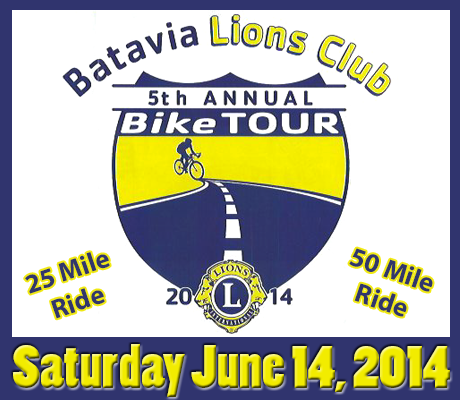 The Batavia Lions Club is hosting the 5th Annual Bike Tour on Saturday, June 14th. Join us for a 25-mile ride or 50-mile ride. Road assistance, bike support, free fruit and drinks will be available throughout the tour. Free hot dogs, hamburgers and drinks will be provided to riders upon completion.
Location: Starting and ending at the parking lot behind the Polish Falcons, 123 S. Swan St., Batavia.
Check in times:
7 to 7:45 a.m. -- 50-mile ride
8:15 to 9:15 a.m. -- 25-mile ride
Starting times: 8 a.m. for the 50-mile ride and 9:30 a.m. for the 25-mile ride.
Entry Fees: After May 16th -- $35; All children under 16 years of age $15, but must be accompanied by a parent or guardian. Kids under 5 are free. Same day registrations are accepted with cash or check payment the morning of the event.
For applications and/or further information contact Adam Miller Toy and Bicycle or visit www.batavialions.com.