September 13, 2013 - 3:33pm
Sponsored Post: MoonJava Cafe to host book signing on September 19th!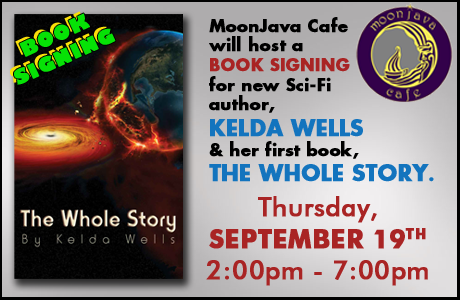 MoonJava Cafe will host a book signing for new sci-fi author, Kelda Wells and her first book, "The Whole Story." This one-time event will take place on Thursday, September 19th from 2 to 7 p.m.
With her first novel, Ms.Well's book dives into the complexities of time and space exploration as well as spinning a gripping tale that will keep you on the edge until the very end. The book is available as paperback, hardcover and e-book.
MoonJava cafe is located on 56 Harvester Ave., Batavia, NY.
For more information please call (585) 356-3817. Vist us on Facebook at: https://www.facebook.com/Moonjavacafe