July 29, 2016 - 12:00pm
Sponsored Post: Register Today for the 4th annual Glow Corporate Cup!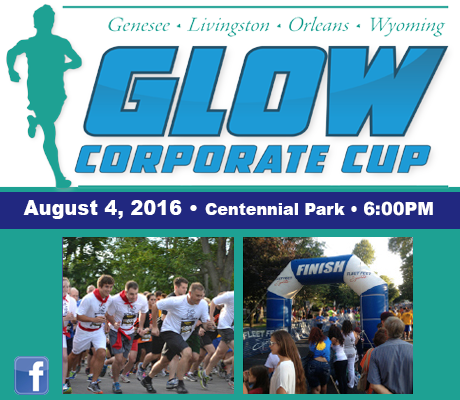 Register today for our 4th annual Glow Corporate Cup!
At 6 p.m. on Thursday, Aug. 4, Merrill Lynch in Batavia will sponsor the fourth annual GLOW Corporate Cup. Each year local businesses form teams to compete in a 5K race wherein the company with the lowest combined time takes home the GLOW cup.
Following the race is the region's largest office party. Businesses are encouraged to set up tents in Centennial Park, bring refreshments and prepare to have a great time as they mingle with other local companies. Live music is provided as runners and supporters enjoy the post-race "AfterGLOW." 
Last year, the race included 700 runners and more than 1,000 people participated in the post-race celebration. In the first two years more than $30,000 was raised for the GLOW YMCA and this year event is expected to exceed last year's total in participants and funds raised.
"Our purpose is to bring the businesses of the GLOW region together for a common cause," said Joshua Dent, one of the race organizers. "The after-party was intended to celebrate the outstanding companies we have in the region that are giving back to their community." 
The GLOW YMCA serves the communities of Genesee, Livingston, Orleans, and Wyoming counties.
"This year we would like to see even more participants from beyond Genesee County," Dent said.
Registration is $25 per person and individuals must be 18 or older to participate. The route has been certified as a USA Track and Field Course.
All funds raised go toward programs for the GLOW YMCA. Register today! Click here for more information. Questions concerning the event may be sent to: [email protected]