December 3, 2012 - 2:52pm
Sponsored Post: Terry Hills Invites You Have Lunch with SERENDIPITY SWING!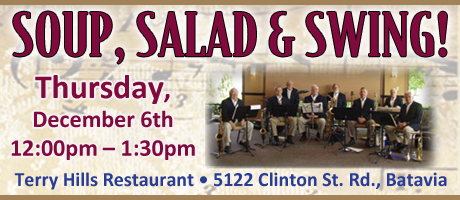 Come have lunch with SERENDIPITY SWING! SOUP, SALAD & SWING! Thursday, December 6th • 12:00 p.m. – 1:30pm
Serendipity Swing: "A Little Big Band," is an Eight-Musician Ensemble with a female and male vocalist from Buffalo, New York, that performs music associated with the Golden Age of Glamorous Ballrooms, Classy Supper Clubs, the Most Elegant of Private Parties, and the Great American Songbook. The music library, with over 300 titles, contains selections which explore and mirror the beauty of the music elements; melody, harmony and rhythm. It is music that is artful, graceful, whimsical, and listenable. The melodies are memorable. The harmonies are soothing and rich in texture. The tempos, rhythms, are danceable and toe-tapping.
Lunch Menu offered from 11 am – 2 pm
Lunch Reservations Required – (585) 343-0642; [email protected]
Terry Hills Restaurant, 5122 Clinton St. Road, Batavia
Visit us online at: www.terryhills.com