March 31, 2017 - 12:00pm
Sponsored Post: Think Spring and visit the Home Show March 31st - April 2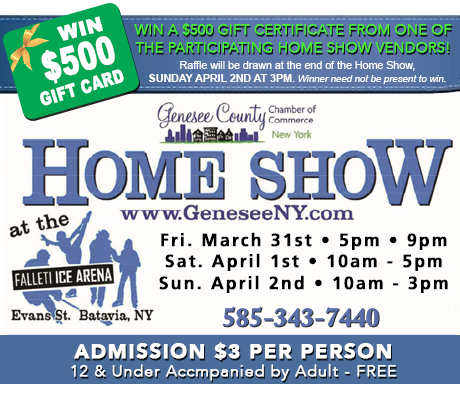 It's been a long cold winter and now it's time to "think spring." And there's no way better way to beat those long winter blues than by attending the second annual Genesee County Chamber of Commerce Home Show. The Home Show will be held at Falleti Ice Arena in Batavia Friday through Sunday, March 31st - April 2nd.
Here's your chance to talk face to face with more than 60 area businesses attending this year's Home Show for help with your home ideas and projects. And while you're there, make sure you register for a chance to win a $500 gift certificate from the Home Show vendor business of your choice. The winner will be drawn at the conclusion of the Home Show and you do not need to be present to win.
The Genesee County Chamber of Commerce Home Show will be open Friday, March 31 from 5 p.m. to 9 p.m., Saturday, April 1 from 10 a.m. to 5 p.m. and Sunday, April 2 from 10 a.m. to 3 p.m. And if you're hungry, the concessions are being run by Alex's Place, so you know the food will be excellent!
Admission is only $3 per person and children 12 and under are free when accompanied by an adult. Parking is free at the Falleti Ice Arena. Coupons good for $1 off all admissions are available at the Genesee County Chamber of Commerce office, 8276 Park Road, Batavia, or at any of the participating businesses.
For a complete list of participating businesses go to www.geneseeny.com/homeshow. For more information, call the Chamber office at 343-7440.