February 27, 2015 - 4:30pm
Corcoran Combining & Trucking reaps award for 'custom harvesting' that helps farmers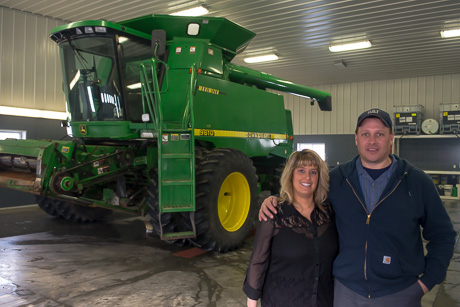 This is the fifth in our series of profiles of the 2014 Chamber of Commerce Award winners. The awards will be presented at a dinner at the Clarion Hotel on Saturday.
Owning and operating farm equipment is costly. Just ask Genesee County farmers. In fact, it's so costly it's hard for farmers to justify having their own equipment. They'll also tell you how hard it is to find qualified equipment operators. These are headaches and expenses farmers don't need as they battle today's economy.
But thanks to Corcoran Combining & Trucking, the Genesee County Chamber of Commerce's Agricultural Business of the Year, local famers have another weapon that can help them survive. Corcoran provides planting and harvesting services designed specifically for local farmers. And it's been doing successfully it for nearly a quarter of a century.
"Many farmers find it more profitable to hire out their field work to companies like us because of the high costs of owning and operating equipment," says Stacy Corcoran, who co-owns Corcoran Combining with her husband, Bill. "That's where we come in. The custom services we provide enable farmers to dramatically cut equipment costs. It works out well for both them and us."
Delivers topflight services
Corcoran delivers topflight service that farmers can count on. With nearly 100 customers throughout a seven-county area, Corcoran works more than 40,000 acres annually. Using equipment that can cost several hundred thousand dollars each, Corcoran justifies the investment by using the equipment on multiple farms.
This kind of use spreads the cost over thousands of acres so they're able to achieve cost-efficiencies individual farmers can't.
"We're try to help farmers any way we can with our services," says Corcoran. "Agriculture is a significant industry in Western New York and we're honored to be a part of it."
Corcoran employs up to 15 people during its busy season, which starts in April and runs through December. Workdays during the season often run upwards of 14 hours or more. During the winter months, Corcoran washes, repairs and services their equipment, housing it in a heated facility the company built in 2014.
Started as a sideline
Bill Corcoran and his brother Tom started the business in 1992 as a sideline. They had two customers: their father and a neighbor. They never expected it to expand to what the business is now. At first, they worked their full-time jobs and did combining on the side.
But the customer list grew rapidly within a few years, prompting the purchase of a second combine and a grain truck. After a few years, the brothers split the business, with each pursuing separate custom-harvesting businesses.
Stacy and Bill expanded services in 1997. They added forage harvesting to their list of services, which involves harvesting hay and corn to make cow feed. The equipment they purchased for offering this service is also used in tillage and manure handling, which spreads the costs out. They also added a partner.
Growth eventually forced Bill to quit his full-time job and commit all his time to the business. Since then, the company has grown and prospered by helping farmers throughout seven Western New York counties: Genesee, Wyoming, Orleans, Livingston, Niagara, Erie and Monroe.
Future looks bright
The future looks bright for Corcoran Combining & Trucking. It recently purchased a new forage harvester and merger with an eye toward expanding their customer base even further. Plus, another family member may be joining them in the business in a few years.
"Corcoran Combining and Trucking is a family business," says Corcoran. "Our sons help out whenever they can and my brother-in-law and father-in-law both have farms, so farming is in our blood."
"But our youngest son is showing great interest in the business. He's only 11 right now but he has great potential. It would be great to have him or any of our children join us in the business. But for now Bill and I are still going strong."