December 7, 2017 - 8:32am
BBA North recaptures Karl Marth Cup; First 'Beat the Champ' show from Mancuso's on TV this weekend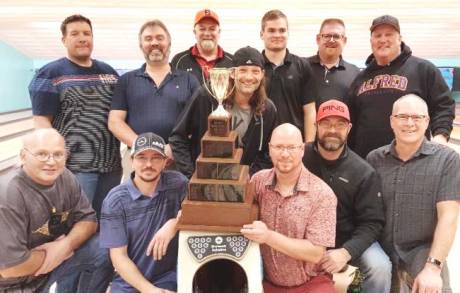 Just like the North wind that has brought about some wintery weather in our area, the BBA North team cooled off the BBA South to post yet another victory in the annual Karl Marth Cup competition.
The team of Medina and Albion area bowlers stormed back from an early deficit by dominating the Singles event and went on to defeat the team of Batavia-area bowlers, 64 ½-58 ½, on Saturday at Scopano's Lanes in Oakfield.
The win avenges a 10-point loss to the South at Medina Lanes last year and makes it six victories in the past seven years for the North, which now leads the series, 14-10.
The competition is dedicated to the memory of the late Karl Marth, a standout tournament bowler in the old Batavia Bowling Association.
Led by Jim Foss' 514 score for two games, the North shook off a 17-7 deficit in Doubles and an even 12-12 split in Baker Doubles to take 32 ½ out of a possible 48 points in the Singles event.
As a result, the North took a seven-point lead into the final event – Baker Team -- which was won by the South by a 14-13 score.
Foss earned the Scott Wright Memorial Outstanding Bowler Award for averaging 242 for his four individual games.
Also posting Singles' wins for the North team were Mike Allis (417 for two games), Roger Allis (484), Rob Sease (413), Scott Gibson (434), Rich Culver (467), Jason Mahnke (418) and Hayden Allis (406).
Four South bowlers won their Singles matches – Paul Spiotta (416), Todd Mortellaro (416), Geoff Harloff (451) and Mickey Hyde (432).
Other members of the winning team were Scott Allis, Aaron Verheyn, Mike Lavender, Scott Shields and captain Tom Allis.
Scott Allis and Mahnke combined for a 968 score for two games in Doubles.
For the South, Dean Cadieux Jr. led the way with a 236 average, followed by Hyde's 227. Other members were Brett Van Duser, captain Ed Doody, Jim Pursel, Steve O'Dell, Mike Pettinella, Gregg Wolff and Rick Saunders.
Photo at top -- BBA North team, winner of this year's Karl Marth Cup. Front from left, Jim Foss, Jason Mahnke, Mike Allis, Rob Sease, Scott Allis, Roger Allis; back, Rich Culver, Scott Gibson, Tom Allis, Hayden Allis, Aaron Verheyn, Mike Lavender.
FIRST MANCUSO SHOW OF 'BEAT THE CHAMP' IS SATURDAY
The first of four Beat the Champ bowling shows from Mancuso Bowling Center will be televised this weekend on WBBZ-TV (MeTV). Telecasts are scheduled for 4 p.m. Saturday and repeated at 11 p.m. Sunday.
This weekend's show features champion John Danielewicz of Sanborn and challengers Josh Vogt of West Seneca, Dana Voytovich of Cheektowaga and Jeremy Zimmerman of Ransomville.
The second show (Dec. 16-17) will feature the champion from this weekend's show against Dan Richbart of Clarence, Chuck Jagodzinski of Lancaster and Joseph Pohlman of East Amherst.
Batavians Rich Wagner and Rob Stefani, along with Brockport's Chris Bardol, will be competing on the Dec. 23-24 telecast, and that will be followed by a youth doubles event featuring members of the Turnbull Heating Junior League on Dec. 30-31.
ESPN TO TELEVISE USA VS. WORLD EVENT ON SUNDAY
Sunday afternoon professional bowling returns to ESPN this Sunday (1 p.m.) with the USA vs. The World team competition -- an event that took place during last month's PBA World Series of Bowling IX in Reno, Nev.
Representing the USA are Kyle Troup, Bill O'Neill, Ryan Ciminelli (of Cheektowaga), Tom Smallwood and Matt McNeil. PBA Hall of Famer Marshall Holman is the captain.
The World team, captained by England's Stuart Williams, is comprised of Jason Belmonte of Australia, Jesper Svennson of Sweden, Dom Barrett of England, Thomas Larsen of Denmark and Rafiq Ismail of Malaysia.
Subsequent telecasts are the Chameleon and Shark Championships on Sunday, Dec. 17 beginning at 1 p.m.; the Cheetah and Scorpion Championships on Dec. 24 at 1 p.m.; PBA World Championship on Dec. 31 at 1 p.m. and the World Bowling Tour Men's and Women's Finals on Jan. 7 at 1 p.m.
ROSE GARDEN TEAM LEADS GR YOUTH TRAVEL LEAGUE
The Rose Garden Bowl I team of Devon Zinter, Madelynn Pimm, Brooke Jarkiewicz and Michael Sardou holds a 2 ½ point lead over Batavia Strike Force after four sessions of the GR Youth Travel League.
The 13-team league resumes competition at 12:30 p.m. this Sunday at Mancuso Bowling Center.
Rose Garden I defeated Mount Morris, 15-4, in recent action at its home center, while Batavia Strike Force took 16 of 19 points against Rose Garden II.
Individually, Skylar Laesser of Batavia Strike Force led the boys with a 244 game and 685 series while Matt Hurlburt of Perry posted 267—683 and Josiah Yantz of Scopano's Lanes had 279—624.
Paige Snook of Oak Orchard Bowl I led the girls with a 506 series, followed by Samantha Hyde of Le Roy Legion Lanes with 500 and Haylee Thornley of Batavia X Factor with 496.
VICK CLAIMS ROCHESTER MASTERS CHAMPIONSHIP
Left-hander Dan Vick, arguably the top bowler in Rochester, captured his second career Rochester NY USBC Masters title on Sunday with a 279-191 win over Sam Capizzi Jr. at AMF Empire Lanes.
Vick defeated four bowlers in the step-ladder finals, including USBC Open Championships titlist Mike Rose Jr.
In a 60-and-Over Tour event on Nov. 26 at Pleasure Lanes in Hilton, four Genesee Region USBC bowlers cashed – Paul Spiotta and Fred Gravanda of Batavia, Al Vlietstra of Geneseo and Bob Hodgson of Medina.
Rick Jewell of Rochester won his second straight 60-and-Over Tour event.
The Genesee Region USBC has announced that the 64th GRUSBC Scratch Memorial Tournament will take place on Jan. 6-7 at Letchworth Pines in Portageville.
Qualifying squads are set for noon and 3 p.m. on Jan. 6 and 10 a.m. on Jan. 4. Semifinals and finals will follow the 10 a.m. squad. The entry fee is $55 and first place, based on 80 entries, is $1,000.
To enter, send an email to [email protected] or call 585-861-0404.
For a list of other local tournaments in December and January, scroll down to the Nov. 24 Pin Points column.