November 30, 2016 - 9:57pm
'Beat The Champ' rolls into Mancuso Bowling Center
posted by
Mike Pettinella
in
Bowling
.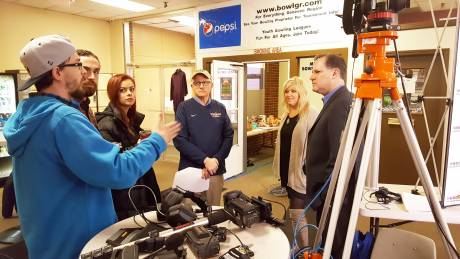 The production team of the "Beat The Champ" TV show -- a WBBZ-TV (MeTV) offering that airs on Saturdays at 4 p.m. with an encore showing on Sundays at 11 p.m. -- talks things over around 9:30 a.m. on Wednesday before embarking on the taping of four TV shows, which are scheduled to be telecast on Dec. 10, 17, 24 and 31 from Mancuso Bowling Center in Batavia. From left are Andy Smyczynski, director; Kyle Wilson, producer; Janelle Sabin, scorekeeper; John DiSciullo, WBBZ-TV promotion and production coordinator, and commentators Sue Nawojski and Paul Peck.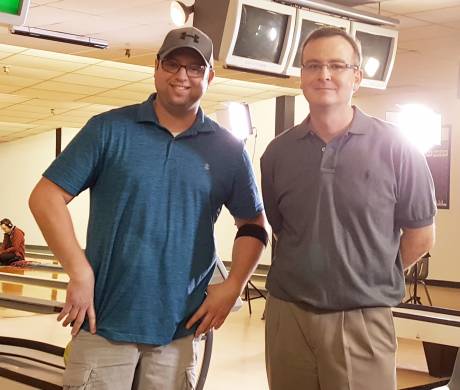 Rich Wagner of Batavia, left, and Tony Dolan of West Seneca were among the four participants on the first show of the day. The Batavian is not publishing results of any of the matches since they will be televised at a later date. The show featuring Wagner is scheduled for Dec. 10.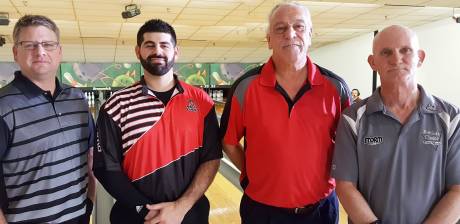 Batavian Fred Gravanda, third from left, competed in the third show -- to be aired on Dec. 24 -- along with George Szczublewski of West Seneca, Paul Tatone of St. Catharines, Ontario, and John Danielewicz of Sanborn.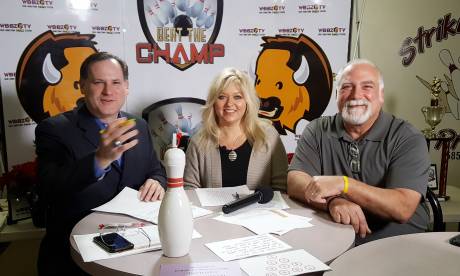 Special guests during the shows included Rick Mancuso, right, owner of Mancuso Bowling Center, who spoke about the rich tradition of Batavia bowling.  Other guests were Mike Pettinella, NYS USBC association manager and bowling columnist for The Batavian, and Mike Sputore, manager of Mancuso Bowling Center.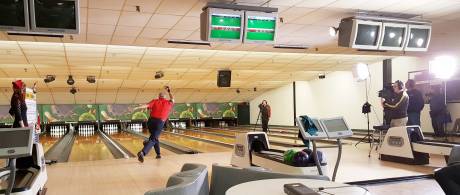 Lights, camera, action. Batavian Fred Gravanda delivers the ball during competition on the third show -- which is scheduled to be aired on Dec. 24 (note that Sabin is wearing a Christmas cap while keeping score at left).

A quartet of former Classic League standouts at Mancuso Bowling Center (then Mancuso Lanes) were among the spectators on hand to enjoy the match play. They are, from left, Joe Mirando, Paul Spiotta, Frank Corradini and Joe Mortellaro.  "Beat The Champ" production personnel said the crowd in Batavia was the largest of the season for the show, which travels to bowling centers in the Buffalo area each month. Its second season starts in January at Jamestown Bowling Company.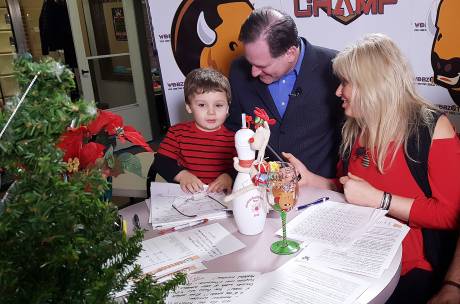 Peck and Nawojski, as well as Sabin, spent time with members of the audience, including 3-year-old Silas Stock, grandson of Mark and Penny Brown of Attica, who competed on the fourth show -- a mixed doubles event that will be televised on Dec. 31.  Penny Brown said that Silas is "obsessed with the Beat The Champ show, and watches it every week."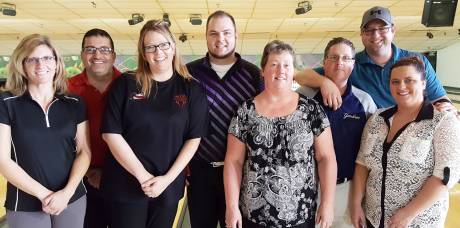 The four teams that competed in a "Baker-style" mixed couples match on the fourth TV show are, from left, Laurie Morgante of Bergen and Frank Jarkiewicz of Byron, Jenn and Chris Bardol of Rochester, Penny and Mark Brown of Attica, and Rich and Jen Wagner of Batavia.  In Baker-style bowling, teammates alternate frames.  Photos by Mike Pettinella.