January 24, 2017 - 3:39pm
Falleti: Naming rights only; City proposes big redevelopment plans for Evans Street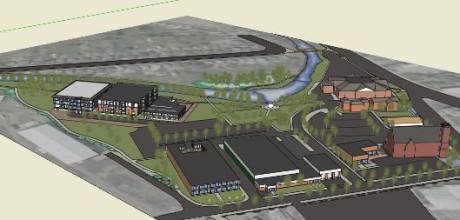 Frank Falleti, owner of Falleti Motors on Ellicott Street Road and father of two boys who play in the Genesee Amateur Hockey Association, said he and his family want the Falleti Ice Arena to be a recreational facility the city can be proud of but the management side of the operation is out of his hands.
"We own the naming rights only, but have nothing to do with the operation," Falleti said today in response to an article in The Batavian posted following Monday night's City Council meeting. "The rink is managed by an out-of-state management company (Firland Management)."
At last night's meeting, Councilman Paul Viele pointed out deteriorating conditions of the Evans Street rink's locker rooms, backing his claims with photos that accompanied the article.
"The locker rooms are disgusting … as a city we should be ashamed of ourselves to let it go this much," Viele said at the meeting. "We need to help the rink management to get them where they need to be."
Since then, Falleti said he has received more than three dozen calls from people who are pointing the finger at him.
"People think it's me. It's not me," he said. "But I will help where I can. When the Zamboni broke down, I helped get it fixed."
Furthermore, Falleti said that he would be interested in purchasing and managing the ice arena should it become available – preferably if the adjacent City of Batavia fire headquarters moved to a new location.
"If they (the city) put all the amenities in one place – fire and police – and if we came to an agreement with the city, I think we could go in there and do a good job managing it," he said, adding that he envisions a pro shop, separate locker rooms for males and females and a restaurant.
Falleti said he had a brief discussion with City Manager Jason Molino about buying the rink, but nothing concrete.
Molino, when asked if selling the ice rink was an option, said that could be a possibility, especially in light of the city's multimillion dollar plan to redevelop that entire area to include another recreation facility (see architect's rendering above).
"The city has been open to this option as long as it is part of our BOA (Brownfield Opportunity Area) redevelopment plans," Molino said. "That plan outlines that area as the Creek Park redevelopment which is one of the most underutilized assets in the city."
The city manager said the Creek Park area takes advantage of the incoming Ellicott Trail (bicycle/walking path) to be constructed this year and connects with the ice arena, an additional recreational amenity (such as another ice rink or indoor soccer field) and new housing while reorganizing wasted space into new green space.
"The proposed budget includes funding for the BDC to specifically work on preparing this site for redevelopment as it is one of our five strategic priority sites," he said.
As far as the current state of affairs at the ice rink, Molino said there is $183,000 in the facility's reserve account – money from lease, debt service and operational payments from Firland – which could be tapped into to correct some of the deficiencies.
"This facility is important to the community and we want it to remain a quality asset," he said. "It brings a lot of visitors into the community."
Molino said he will be setting up a meeting of the parties involved.
"Some of the problems stem from maintenance and operations, and that is Firland's responsibility, and if capital improvements are needed, that is on our end, and we should discuss that as well."
Architect's rendering – The proposed Creek Park redevelopment shows a new recreational facility (front left) and a housing complex (left, rear) in addition to the current buildings along Evans Street. The Genesee County Courthouse Facility can be seen at right.