March 29, 2018 - 8:05am
Honor scores highlight final weekend of GRUSBC Association Tournament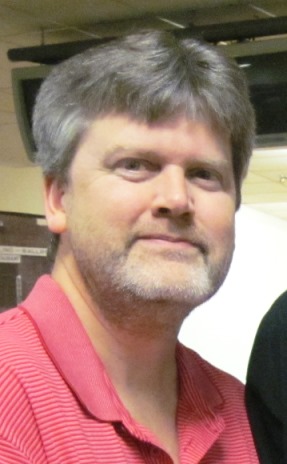 Genesee Region USBC bowlers were in the groove and then some last weekend at Livingston Lanes in Geneseo and Mount Morris Lanes for Doubles & Singles and Team competition, respectively, at the 12th annual GRUSBC Association Tournament.
Batavian Mike Johnson (photo at left) led the hit parade with a trio of prolific three-game series en route to winning the Open Division All-Events crown.
The 50-year-old left-hander, who entered with a 226 average, rolled 763 in the Team event, 802 in Doubles and 706 in Singles for a 2,271 (all scratch) score.
His 802 in Doubles, which was capped by a 299 game, and his partner Matt Balduf's 704 series (also all scratch) resulted in a tournament-best 1,506 total.
In All-Events, Aaron Verheyn of Medina placed second at 2,210 and Scott Gibson of Oakfield was third at 2,113.
In Open Team action at Mount Morris Lanes, the Dinger Stingers squad out of Perry Bowling Center erupted for a 3,513 score with handicap – 3,200 scratch – on Saturday as Nathan Tackentien posted 743, Curtis Hoffman 711, Ryan Wetmore 641, Doug Stratton 615 and Jamie Schery 490.
Their score was 149 pins more than the 3,364 posted on Sunday by the Hello team, also out of Perry, consisting of Chris Huntz (699), Stratton (618), Rachel Van Duser (565), John Huntz (554) and Ben Jaggard (545).
Recipe for Disaster (Mancuso Bowling Center), captained by Batavian Tom Fluker, and Barber's Five (Mancuso's), captained by Batavian Gerry Barber, finished third and fourth at 3,358 and 3,336, respectively.
In Women's Team play, King & Her Court (Mount Morris Lanes), consisting of Jan King, Christine Bovee, Cathi Fournier and Karen Henry, held on to the top spot with 2,444.
Hawks (Medina Lanes), captained by Jackie Jurinich, placed second at 2,408, and Appleby's (Perry Bowling Center), captained by Caroline Appleby, took third at 2,345.
In Singles competition, Bergen's Laurie Morgante and Medina's Hayden Allis placed 1-2 with superb scores.
Morgante (174 average) rolled 254-211-259 for 724, her first 700 series. With handicap, her total was 834, which edged Allis – who recorded 279-264-279—822.
Also in Singles, Attica's Josh Elliott posted a 300 game, the tournament's only perfect game.
Roxanne Clar of Avon posted 652 with handicap to edge teammate Dawn Johnston of Livonia (632) and Fournier and Jeanne Rosa of Perry (628 each) in Women's Singles.
In Women's Doubles, the mother-daughter duo of Joann and Rachel Van Duser (Perry Bowling Center) placed first with 1,281 with handicap – 30 pins more than previous leaders Cathi Fournier and Karen Henry (Mount Morris Lanes) and 40 pins more than Dawn Bertrand and Bonnie Wass (Perry Bowling Center).
Fournier paced the Women's All-Events with 1,996, followed by Rachel Van Duser at 1,875 and Wass at 1,854.
All scores are unofficial pending final average verification. The Genesee Region USBC has 30 days to pay the prize list, unless extended by USBC headquarters in Arlington, Texas, due to average verification issues.
For unofficial results, go to www.bowlgr.com
The Genesee Region USBC added $600 to the prize fund.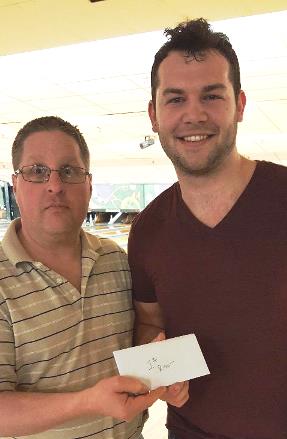 CANADIAN 'WEEKEND WARRIOR' WINS SCRATCH ELIMINATOR
Matt Lewis of Hamilton, Ontario, Canada, makes sure his passport is always current as he makes frequent weekend trips across the border to compete in bowling tournaments in the States.
He found his way to Batavia on March 17, and left there $1,000 richer after winning the T.F. Brown's Scratch Eliminator at Mancuso Bowling Center.
In the four-person finals, Lewis shot 226 to defeat Sam Capizzi of Rochester (215), Pat Brick of Buffalo (186) and Kristina Szczerbinski of North Tonawanda (154).
The insurance adjuster by trade, Lewis said it was his first tournament title after "numerous" second- and third-place finishes.
Capizzi earned $600, Brick $400 and Szczerbinski $300.
Two local bowlers cashed for $200 apiece – Rich Wagner of Batavia and Joe Trigilio of Attica.
The tournament drew 60 entries.
Photo -- Mark Brown, left, tournament director, presents first-place prize money to Matt Lewis.
GRAVANDA PLACES SECOND IN 60-AND-OVER TOURNEY
Batavia veteran kegler Fred Gravanda notched a second-place finish on March 18 at the 60-and-Over Tour event at Brockport Bowl.
Gravanda rolled a 219 game in the three-man finals, losing out to Steve Nowicki of Rochester (236) but edging Mike Feola of Rochester by a pin. Bob Hodgson of Medina also cashed.
The tournament attracted 57 entries, the most ever for one of the monthly competitions run by Hilton's Tommy Kress.
Oak Orchard Bowl in Albion will be hosting the next stop at noon April 8 and Medina Lanes will host a tournament on April 29.  Randy Hanks, proprietor of Oak Orchard Bowl, is contributing $350 to the prize fund.
MEDINA LANES HOSTING MEMORIAL NO-TAP ON SATURDAY
The 6th annual Mark Wengrzycki Memorial 3-Person No-Tap Tournament is scheduled for Saturday at Medina Lanes.
Squad times are 2, 4 and 6 p.m. with one in six teams cashing, based on three-game totals with handicap.  Handicap is based on 80 percent of 220, with a maximum team average of 660.
First place is listed as $750.  The entry fee is $75 per team.
To enter, call Medina Lanes at 585-318-4474.
ROSE GARDEN TEAM ON VERGE OF YOUTH TRAVEL TITLE
The Rose Garden I team of Bergen is 16 points ahead with just one week remaining in the Genesee Region Youth Travel League.
The league concludes its regular season on April 15 at Oak Orchard Bowl in Albion with a position round, meaning that Rose Garden I will take on Perry Bowling Center needed to win just two of the 19 points up for grabs.
In recent action at Mancuso Bowling Center, Perry topped Rose Garden I, 13-6, to keep its hopes alive.
Individually, James Townsend (Batavia Strike Force) led the boys with a 240 game and 614 series, while Corinne Saluste (Batavia Strike Force) paced the girls with a 215 game and 550 series.
The league concludes with a no-tap tournament and banquet on April 22 at Mancuso's. Contact Tom Fluker at [email protected] for more details.
GRUSBC AWARDS BANQUET IS SET FOR MAY 12 AT BATAVIA DOWNS
The GRUSBC Association Banquet & Hall of Fame Dinner is slated for 6:30 p.m. May 12 at Batavia Downs Gaming on Park Road.
Tournament champions, scholarship winners and Hall of Fame inductees will be honored, and a report of the 2017-18 season will be given by association officials.
The cost of the dinner is $25, with the following exceptions:
-- GRUSBC directors, the Hall of Fame inductee and one guest, Adult tournament champions (limit one tournament only), Youth tournament champions and one guest (limit one tournament only) and scholarship recipients and one guest are invited at no charge.
-- Past GRUSBC Hall of Famers, league secretaries or representatives (limit one per league) are invited at half price.
The deadline for reservations is May 1. For reservations, send an email to [email protected].
IN REMEBRANCE: C. DIFILIPPO, C. LOWE, S. DURFEE
Our condolences are extended to the families of three valued members of the area's bowling community who passed away in recent days.
Carmen DiFilippo of Batavia was a former Classic League bowler at Mancuso Bowling Center and the longtime secretary of the Polish Falcons League on Wednesday night. He died on March 22 at the age of 80.
M. Carol Lowe of Oakfield died on March 18, at the age of 80. Carol was a fine bowler and served as a Genesee Valley Women's Bowling Association director for many years.
Steven Durfee of Bennington was a regular bowler (along with his wife, Mary Jean) at Bennington Lanes. He passed away on March 18 at the age of 64.