November 16, 2016 - 12:01pm
Lovers Lane Road couple pitches senior apartment complex plan to Batavia Town Planning Board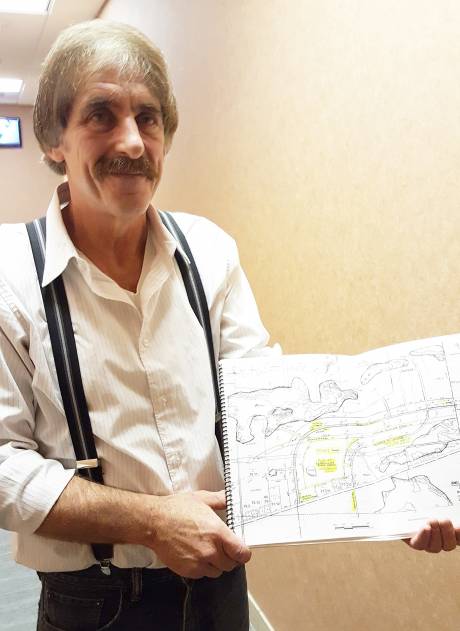 UPDATE -- 11/16/16 - 2:15 P.M.
The Batavian received a return phone call from Jocelyn Bos, Calamar's senior housing development director, and she stated that the project is at the "very conceptual level, with no landowner contracts or business details in place."
She did mention that Town of Batavia officials had asked her company to consider another senior apartment complex due to the "incredible need" for that type of housing, and commended David Ficarella for putting together a "substantial plan."
-------------------------------------------------------
The Town of Batavia Planning Board on Tuesday night threw its support behind the idea of a proposed three-story, 110-unit senior apartment complex off Route 33 near Donahue Road, west of the city.
"I definitely like the concept and would be willing to write a letter to the Town of Batavia (board) recommending our approval," said Kathleen Jasinski, planning board chair, after learning of the plan from David Ficarella, a Lovers Lane Road resident, who said he is working with Calamar Enterprises of Wheatfield on the development.
Ficarella, at the meeting with his wife, Katie, said it will take about $11 million to create the 55-and-over senior community of apartments that would rent at market rate -- $800 to $1,100 per month, with all major appliances and utilities included.
His summary outline to the board states that up to four full-time and two part-time positions will be created, and that about 200 construction jobs will be created to build the facility.
More importantly, he said, his proposed tax structure would generate $1.3 million in county and school tax revenue over the first 10 years, and would provide a sewer system that the town could tap into in the future.
"As it stands now, it's a piece of land that brings in a couple thousand dollars in taxes, and it would stay that way for the next 30 years if nobody does anything about it," he said. "The way we have it set up is that this facility will generate long-term tax base without adding demands for services on the school district."
Ficarella said he is hoping that the Town of Batavia approves a sliding scale, percentage-based tax structure that starts with a low assessment ($250,000) for the first five years and increases to full valuation (estimated at $9 million) by year 10.
The project would not include tax abatements from the Genesee County Economic Development Center.
 "We've already been turned down in our request for incentives (from the GCEDC)," he said.
Ficarella owns about 140 acres in the area along Route 33 and would relinquish 10 to 15 acres for the project.
He said he prefers to partner with Calamar based on the company's "excellent reputation in senior housing" and also is working with East Coast Commercial for financing.
Calamar previously wanted to build a senior citizens housing complex on West Main Street Road, but its request for tax incentives was turned down by the GCEDC Board of Directors. The Niagara County firm then filed a lawsuit against the GCEDC, which it lost. As a result, that project was scrapped.
Phone calls to Jocelyn Bos, senior housing development director for Calamar, were not returned this morning.
This latest proposal also includes the future extensions of Donahue Road north across Route 33 and of Edgewood Drive, which is sandwiched between Route 33 (Pearl Street Road) and the Fairway/Valle/Woodland residential area developed by Gary McWethy, Ficarella said.
"We're looking to put in some more (single family) building lots, since Gary is out of lots on Edgewood," Ficarella said. "With the STAMP project coming in (notably the 1366 Technologies solar wafer plant), there will be a lot of people looking for places to live."
Ficarella said that McWethy has been working toward extending Edgewood Drive onto Pearl Street but has been delayed by the state Department of Environmental Conservation, which has concerns over wetlands located at the west end of the road.
At the end of his presentation, town planners voted unanimously to accept the conceptual proposal and authorized Jasinski to draft a letter of recommendation to the Town Board.
Photo -- David Ficarella of Lovers Lane Road in the Town of Batavia displays his preliminary sketch of the area of a proposed senior housing apartment complex -- along with single-family building lots -- along Route 33 (Pearl Street Road), west of the city. Photo by Mike Pettinella.
November 16, 2016 - 1:30pm
#1
November 16, 2016 - 2:28pm
#2
I live near that part of town and would like to see the wetlands protected.
November 16, 2016 - 2:34pm
#3
sounds pretty expensive for seniors who are on fixed incomes