February 11, 2019 - 2:31pm
One for the thumb: Foss sets scoring marks en route to fifth GRUSBC Masters crown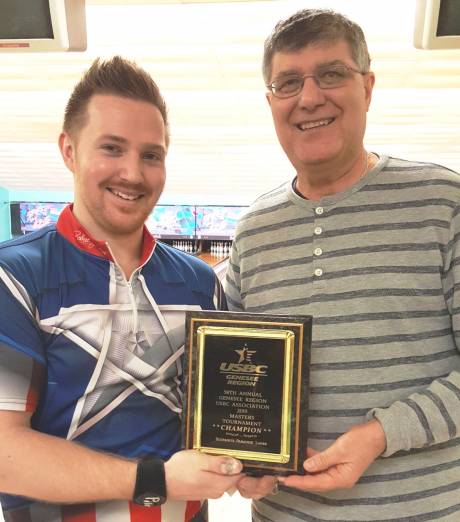 CREAM OF THE CROP: Curtis Foss of Medina, left, receives the champion's plaque from Paul Spiotta, tournament director, following his victory Sunday in the Genesee Region USBC Masters at Scopano's Lanes in Oakfield. Foss now has five Masters titles, breaking the tie with Dave Montemarano Jr. of Batavia and Tim Rohl, formerly of Le Roy, for the most ever.
Setting a new standard for bowling excellence in the Genesee Region, Medina's Curtis Foss captured an unprecedented fifth GRUSBC Masters Tournament crown Sunday in record-setting fashion at Scopano's Lanes in Oakfield.
Foss, a high-revving power-player whose commitment to the sport in this area is second-to-none, averaged 254 during the eight-game match play finals yesterday and compiled 722 Peterson Points – both high-water marks in the event's 58-year history.
When asked "what does winning a fifth Masters mean to you?" Foss simply replied "everything" before expressing that he wished to dedicate the victory to his father, Robert Jr., who passed away in October 2016, and his grandmother, Mildred Green, who died the day before this past Thanksgiving.
"They meant so much to me, and the fact that my mom (Sue), grandpa (Darrell Green) and sister (Cassidy) were here, means a lot to me, too."
The 31-year-old right-hander entered the finals as the No. 1 seed based on his 1,030 score for four games of qualifying the day before (a 257.5 average) and picked up right where he left off by rolling back-to-back 269 games on Sunday.
First he defeated second-seeded and former champion Scott Culp of Honeoye Falls, 269-223, and then he knocked off third-seeded and defending champion Kevin Gray Jr. of Warsaw, 269-213, to leave little doubt as to who would emerge victorious.
He coasted from there, posting scores of 226, 245, 245, 246, 277 and 255 – losing only to Jake Rosenbeck of Medina, 268-245 in game four.
Foss earned $320 and a champion's ring for his efforts, adding to his collection as a result of victories in 2008, 2009, 2014 and 2015.
In league play this season, Foss -- who bowls as a regular or sub every day of the week -- has registered five 800 series and four 300 games, and already has 27 800's and 40 300's for his career.
As would be expected, Foss came into the tournament with his confidence soaring.
"It's been going well. My body is doing what it needs to do," Foss said, noting that he has a "stay me" philosophy.
"That means that I want to do what I'm best at -- which is to stay smooth and don't overthink the shot," he said. "When I'm not forcing things and when I get to the place where I feel smooth (to the line) is when I'm at my best."
Rosenbeck, a 32-year-old righty, enjoyed a successful Masters debut, placing second with 450 Peterson Points and averaging 231 for his 12 game. He earned $240.
Gray finished in third place with 291 points ($200), followed by Scott Allis of Medina (278 points, $160), Culp (205 points, $140), Mike Johnson of Batavia (185 points, $120), former champion Tom Rohl of Le Roy (146 points, $110) and Mike Pettinella of Batavia (64 points, $100).
In Peterson Point match play, bowlers receive 30 points for a victory and more or less points for their score in relation to 200.
High scores from Saturday's qualifying round (the top eight out of 37 entrants advanced):
Foss, 1,030; Culp, 963; Gray Jr., 942; Allis, 919; Rosenbeck, 911; Johnson of Batavia, 910; Rohl, 892, Pettinella, 887. Devon Leach of Stafford was the alternate at 874.