April 6, 2021 - 9:20am
Player of the Year Reigle, Wormley earn Monroe County League girls' basketball first-team honors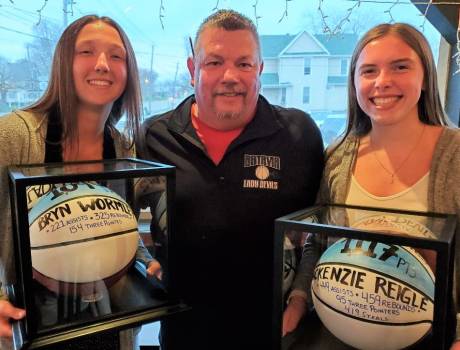 For the second straight season, Batavia High varsity girls' basketball standouts Mackenzie Reigle and Bryn Wormley have earned Monroe County League Division 4 honors.
Reigle (18 points per game) became a two-time Division 4 Player of the Year while Wormley (17 ppg) was selected to the first all-league team for a second time. The senior guards each hit the 1,000-point mark this season en route to leading the Lady Blue Devils to a 10-5 record and an appearance in the Section V Class B1 tournament title game.
For their varsity careers, which began in the seventh grade, Reigle and Wormley scored 1,117 and 1,049 points, respectively, and are in a select group of BHS players to enter the 1,000 point club. Others are Tiara Filbert (1,574), Ryann Stefaniak (1,357) and Madison McCulley (1,015).
At Monday night's team banquet at Batavia's Original pizzeria, Coach Marty Hein said both girls were selected as Ronald McDonald House All-Stars, but the annual exhibition game will not be played this year due to COVID-19.
Photo: Bryn Wormley, left; Coach Marty Hein, and Mackenzie Reigle at the Batavia High varsity girls' basketball banquet Monday night. Photo by Mike Pettinella.