September 5, 2016 - 11:18am
Police investigating circumstances surrounding discovery of body at DeWitt Park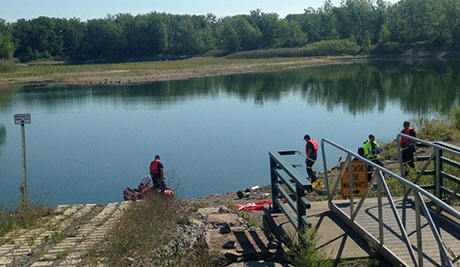 City of Batavia police, with assistance from State Police, Genesee County Sheriff's deputies and City of Batavia Fire Rescue personnel, are investigating the discovery of a body found early this morning at DeWitt Recreation Area on Cedar Street.
"The body was found by a fisherman shortly after 6 a.m. in the sandwash -- actually in the water," said City Police Officer Marc Lawrence, who arrived at the scene around 10 a.m. and advised that the park would be closed to the public at 10:40 a.m.
"We do not know the sex or race of the individual or the situation that led up to it at this time."
Lawrence said that fire rescue workers will assist law enforcement with the retrieval of the body and removal to the medical examiner's office in Erie County. He added that he anticipates another press briefing will take place around noon.
Reports indicate that the body was found in the southeast portion of the park a short time after a park maintenance employee opened the gates at 6 a.m. 
The Batavian will publish more details as they are released by authorities.
Photo -- By Carlet Cleare, 13WHAM.