December 26, 2015 - 5:02pm
Phyllis "Mary" Jacuzzo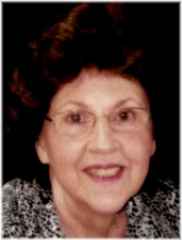 Phyllis "Mary" Jacuzzo, 84 of Perry passed away peacefully at her home on December 25, 2015. She was born in Leicester, England on November 14, 1931 to the late Cecil (Beatrice Ball) Towers. She is preceded in death by her beloved husband Joseph Jacuzzo, brothers Ronald and Reginald Towers, sister Doris Nagle.
Mary was a longtime member of St. Isidore's Parish in Perry. She was a woman that lived her faith as it permeated through her. She always felt so blessed to have her four beautiful children. Mary was a kind, generous and loving woman that would do anything for her family.
She is survived by her children Joseph (Amy) Jacuzzo of Seneca Falls; Sally (Peter) Sullivan of Satellite Beach, FL; Joanne (James) Knapp of Warsaw; Lisa (John) Wheeler of Perry; sister Patricia Granger of SC; 10 grandchildren, 9 great-grandchildren along with many nieces and nephews.
Friends are invited to call on Tuesday December 29, 2015 from 4 to 8 PM at Eaton-Watson Funeral Home, LLC. 98 North Main St. Perry, NY 14530. An 11:00 am Mass of Christian Burial will be held on Wednesday December 30, 2015 at St. Isidore's Parish 8 Park St. Perry, NY 14530. She will be laid to rest in Glenwood Cemetery, Perry.
Memorials may be made to the Street Light Program (part of Shands Hospital/University of Florida to help terminally ill children) www.streetlight.ufhealth.org . For more information please call (585) 237-2626 or to leave a message of condolence visit www.eatonwatsonfuneralhome.com. Arrangements completed by Eaton-Watson Funeral Home, LLC. 98 North Main Street Perry, New York 14530.