February 19, 2016 - 8:59pm
CHARLES A. DeFAZIO
posted by
Michael Tomaszewski
.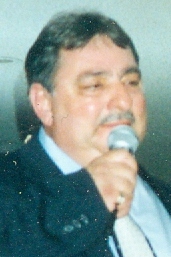 CHARLES A. DeFAZIO
Age 69, of Florida, died peacefully Wednesday February 3, 2016. He was born November 25, 1946 in Batavia, NY, a son of the late Angelo DeFazio and Frances (Castronova) DeFazio residing at St. John's Home in Rochester. 
Chuck was raised in Batavia and graduated from Batavia High School, and he served in the United States Air Force during the Vietnam War. He studied Radiological Health technology in Ocala, FL and worked as a Radiation Protection Technician in the Nuclear Power Industry for over 30 years. Chuck was an avid outdoorsman, especially hunting and fishing which sparked his passion for being out on the open water. Always with a song in mind, Chuck was a well known karaoke singer and Frank Sinatra impersonator who often sang at the Valhalla Inn. He will be remembered for his "big heart" and larger than life personality, he will be truly missed by his family. 
Surviving along with his mother are his siblings, MaryAnn (Joseph) Refici of Rochester, Thomas DeFazio of FL and Jean (Scott Brown) Peca of Batavia; nephews, David (Loren) Refici, Joseph Refici; nieces, Jill (John) Kratz and Jaime Peca; great nieces and nephews, Kaylie, Kaitlin & Colin Kratz, Giada Peca, Trevor, Nathan & Zane Refici.                                                                                                                                                                                                                                                                                                                                                                                                                                                                                                                 
There is no prior visitation, a Celebration of Chuck's Life will take place this summer in Batavia at a time and place to be announced. He will be entombed in the Monsignor Francis L. Schwartz Mausoleum at St. Joseph's Cemetery and in lieu of flowers memorials in his memory are suggested to a charity of the donor's choice. 
Please share your thoughts and memories of Chuck with his family at www.tomaszewskifh.com
THE FAMILY OF CHARLES A. DeFAZIO IS BEING CARED FOR BY THE MICHAEL S. TOMASZEWSKI FUNERAL & CREMATION CHAPEL, LLC 4120 WEST MAIN STREET ROAD BATAVIA, NEW YORK 14020.