February 23, 2016 - 3:23pm
Ruth M. Miller
posted by
Ronald Konieczny
.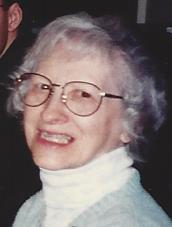 Ruth M. Miller, 91 of Batavia, passed away on Sunday (February21, 2016) at Strong Memorial Hospital in Rochester, New York.
She was born March 16, 1924, in the Town of Wethersfield, New York, a daughter of the late William and Mabel Niver Rosborough.
Ruth was employed for over 30 years by the former Genesee Memorial Hospital in patient care being known for her steadfast dedication and kindness to all she served. Her caring nature continued with devoted care to her husband of over 60 years in the last years of his life.  She enjoyed travelling with her husband and spending time with family and friends far and near.
Survivors include her son, William H. (Cheryl) Miller of Batavia. Grandsons, Christian W. Miller of Williamsville and Adam J. Miller of Los Altos, California. Sister, Mary Rose Silliman of Corfu. Sisters in-law, Pauline Warner of Loveland Colorado, Veronica Miller of Oakfield, Ann Miller of Rochester. Several nieces and nephews also survive.
She was predeceased by her husband, Harry F. Miller; brothers, Claremont Rosborough, Claude Rosborough, Howard Rosborough and sister, Dorothy Rosborough Miller.
Family and friends are cordially invited to share thoughts, condolences and fond memories on Friday (February 26th) from 10:00am- 12:00pm at the J. LEONARD MCANDREW FUNERAL HOME, LLC, 2 Bogue Ave., Batavia, NY. A funeral service will commence at the conclusion of visitation at 12:00pm. Interment will follow in Grandview Cemetery.
Memorial contributions may be made in her memory to the Genesee County Office for the Aging, 2 Bank St., Batavia, NY 14020. Expressions of condolence may be shared with the family at: www.mcandrewfuneralhomes.net.
ARRANGEMENTS WERE ENTRUSTED TO THE J. LEONARD MCANDREW FUNERAL HOME, LLC, 2 BOGUE AVE., BATAVIA, NY 14020. RONALD KONIECZNY II, DIRECTOR.