March 21, 2016 - 4:55pm
Kevin P. Heiman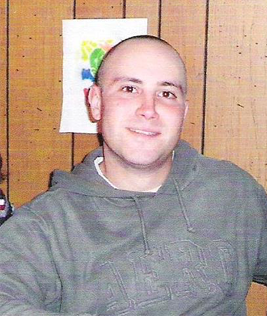 Kevin P. Heiman, Pavilion, passed away Saturday March 19, 2016. He was born June 27, 1982 in Batavia NY, son of Phil and Angela Heiman. 
He will be remembered for his easy going personality, contagious smile and his willingness to lend a helping hand to anyone in need. He considered a stranger just a friend he hadn't met yet. His free spirit led him to love all adventures including fishing, hunting, camping, hiking to find waterfalls, and sky diving. He loved animals and took great joy in gardening. He had a knack for engaging in lengthy conversations with all who crossed his path; he truly listened and always pondered other perspectives. His warm heart and thoughtfulness made others feel special. He was a 2000 graduate of Pavilion Central School where he made a lasting impression on teachers and friends. He was also a hard worker who enjoyed a career as a mason. 
Surviving along with his parents, his sister Caroline (Stephen) Favata, his brother Scott (Eva Valente), maternal grandmother Carmela Ilacqua, paternal grandparents Elmer and Marie Heiman, along with many aunts, uncles and cousins. He was predeceased by his grandfather, Anthony Ilacqua. 
Family and friends are cordially invited to share thoughts, condolences and fond memories from 2‐4pm and 7‐9pm Thursday March 24 at The Cameron Brady & Stueber Funeral Home, 111 Wolcott Street, LeRoy. A memorial service will be held at 11am Friday March 25 at First Baptist Church in Pavilion. A private interment will be held at Darien Cemetery. Memorials may be made a charity of your choice. To share a memory or leave a condolence please visit: www.leroyfuneralhome.com.