Image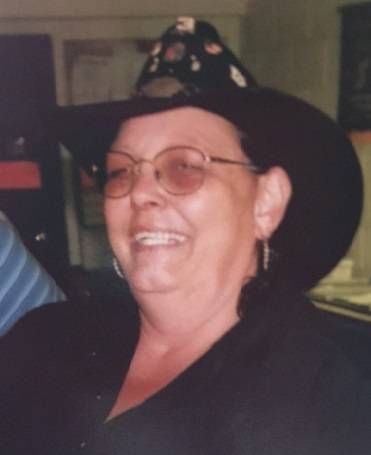 Maryjane (Perry) Thomas, 66 of Wellsville, passed away peacefully on Monday (April 25, 2016) at Strong Memorial Hospital in Rochester, NY. Maryjane was born in Wellsville, NY on December 11, 1949 to the late Oland and Jean Perry. 
She is survived by her three sons and two grandchildren.  Chad (Tammy) Perry of Greensboro, NC,  Bruce (Chrystal) Burritt Jr of Orange, MA, Walter "Jake" Hilliard and his daughter Annabelle of Fredericksburg, VA and her granddaughter Porscha (Adam) Perry-Meade of Greensboro, NC.  Maryjane has four surviving sisters and three brothers;  Suzanne Amidon of Wellsville, Carol (Dick) Dodge of Wellsville, Lois Whiteman of Wellsville, Brenda (Don) Hays of Oswayo, PA,  Fred (Chickie) Perry of Wellsville, Ron (Linda) Perry of Friendship and Milt (Janet) Nolan of Cuba.  As well as many, many nieces, nephews and longtime friends Linda Woodworth, Connie Morris and Darcy Ennis. 
Maryjane was a 1968 graduate of Andover High and later received her accounting degree from Alfred State University. She volunteered for the Wellsville Ambulance for nearly 20 years and worked as a dispatcher for the Belmont Ambulance/Fire Department for 7 years. In 1996, she moved to North Carolina where she took up long haul trucking before retiring in Bassett, Virginia.  Jane was an active member of the American Vets Auxiliary, Moose Club and past Madame President of the Fraternal Order of Eagles in Collinsville, VA.  Jane loved cooking and baking. She owned MJ's Cafe in Allentown for several years and loved treating family and friends to a big meal whenever she could.  Maryjane was an avid Buffalo Bills fan, enjoyed NASCAR, crocheting, playing cards and was looking forward to becoming a great grandmother this July. 
Graveside services will be held Saturday (April 30th), 12pm at Reed Cemetery (2635 Judge Rd. in Oakfield, NY).  In lieu of flowers, donations can be made to F.O.E. Charity Fund Diabetes Research Center in the name of Maryjane Thomas by logging on to http://www.foe.com/Donate.aspx. Expressions of condolence can be shared with the family at: www.mcandrewfuneralhomes.net.
ARRANGEMENTS WERE ENTRUSTED TO THE J. LEONARD MCANDREW FUNERAL HOME, LLC, 2 BOGUE AVE., BATAVIA, NY 14020. RONALD KONIECZNY II, DIRECTOR.