May 27, 2016 - 8:51am
Michael "Mickey" F. Yanno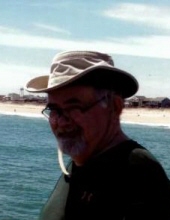 Michael "Mickey" F. Yanno, 69, of Rochester passed away on May 22, 2016 at his home in Rochester. Michael was born in Warsaw, New York on July 20, 2016 a son of the late Michael J. and Julia (Loverdi) Yanno.  Along with his parents he is preceded in death by a sister Francine Kledhammer.
Mike was a Sergeant in the US Army during Vietnam. He was a Green Beret stationed in Ft. Bragg and in Germany.  He was a graduate of Mt. Morris High School. He worked for the Local Union #13 in Rochester. A former member of the Silver Lake Sportsman's Club and the Perry Vets Club and the National Rifle Association. Mike was an avid hunter, fisherman and enjoyed reading and watching movies.
He is survived by 3 daughters; Dawn (Marshall) Bennett of Michigan, Julie Yanno and Heather Yanno both of North Carolina; a son Michal (Ann) Yanno III of Rochester; 2 sisters Marie (Donald) Ambrose of North Carolina, Frances McCabe of Rochester, Nicholas Yanno of Perry, Frank Yanno of California and Richard Yanno of Florida; 8 grandchildren Erica Pedraza, Kristina (Jon) Geddes, Jessica Holland, Alton Pierce, Crystal Pratt, Storm, Autumn and Teryn Yanno, along with many nieces and nephews.
Family and friends may call from 7:00-9:00PM on Tuesday May 31, 2016 at Eaton-Watson Funeral Home, LLC. 98 North Main Street Perry, New York 14530. A Memorial Mass will be held on Wednesday June 1st at St. Isidore's Catholic Parish (St. Joseph's Church) in Perry at 11:00AM
For more information please call (585) 237-2626 or to leave a message of condolence visit www.eatonwatsonfuneralhome.com. Arrangements completed by Eaton-Watson Funeral Home, LLC. 98 North Main Street Perry, New York 14530.