December 18, 2016 - 1:52pm
Elizabeth R. "Betty" Norton
posted by
LaVern Falcone
.
Pavilion ~ Elizabeth R. "Betty" Norton, age 98 , passed away Saturday morning (December 17, 2016) at the LeRoy Village Green Nursing Home.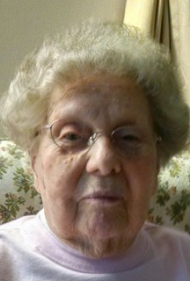 She was born June 15, 1918 in Rochester, NY,  a daughter of the late Byron and C. May Tufts Rudgers.
     Betty loved music and prior to graduating from Pavilion Central School, she composed the tune for a song that became the school's Alma Mater with the words written by Danny Conner.
She was a graduate of the Batavia Branch of the Rochester Business Institute and retired from Pavilion Central School after 35 years as secretary to the principal.  During her tenure, Betty was appointed as Clerk of the Board of Education until her retirement.
     Betty loved her cats and liked cooking, baking and preparing Sunday dinners for her family and grandchildren, as well as planting and caring for her many flowers.  Music continued throughout her life and she enjoyed playing both the piano and her Hammond organ. As a lifetime and oldest member of the Pavilion United Methodist Church, she would also occasionally play the church organ on Sundays.
     She is survived by her daughter, Karry (Harold) Reynolds; her son, Keith (Rhonda) Norton; 4 grandchildren, Todd (Mary) Norton, Michelle (Michael) Freeman, Christy (Chris) Schultz and Karyn (Jeff) Winters; 8 great-grandchildren, Tyler and Bobbie Jo Norton, Britannie (Michael) Fitch, Michaela and Marissa Freeman, Emma Winters and William and Drew Schultz; 1 great-great-granddaughter, Lilly Fitch, along with several nieces and nephews.
     Betty was predeceased by her husband, Stuart R. Norton, daughter-in-law, Shirlee Ann Norton and her siblings, Earl (Virginia) Rudgers, Charles Rudgers and Alta MacFarland.
     Visitation and service information will be announced at a later date in the Spring of 2017.
     Memorials are suggested to the Pavilion United Methodist Church, 11115 E. Park St., Pavilion, NY 14525.
     Your memories and condolences may be shared with Betty's family at www.falconefuneralhome.com.
     Mrs. Norton and her family are being cared for by the Falcone Family Funeral & Cremation Service Inc. in LeRoy.  585-768-2400