February 27, 2012 - 6:30pm
Mary N. Mancuso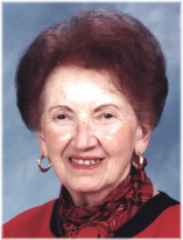 Mary N. Mancuso, 97 of Batavia, passed away on Sunday February 26, 2012 at Canterbury Woods, Williamsville, NY.
She was the wife of the late Dominic C. Mancuso, a co-founder of Charles Mancuso and Son, Incorporated. He successfully operated Mancuso's Restaurant and Bowling Alley for many years.
Mary was born in Cleveland, OH, on October 29, 1914, to the late Louise Kisella and William Neubert. At the age of six months, they moved to Batavia where she has been a resident all of her life. Mary was a devoted and loving daughter, wife, mother, sister, grandmother, great-grandmother, great-great-grandmother, and friend. She was a graduate of St. Joseph's School and lifelong member of St. Joseph's Church. She was very active in the St. Joseph's Home School Association and a member of the Senior Sodality. During the Monsignor Schwartz administration she was an active supporter of various activities including the annual Lawn Fete, church dinners and bazaars. She was a member of St. Jerome's Guild and the Cooperative Extension. She also served on the Board of Director's at Notre Dame High School. Mary and Dominic served on the Advisory Council of Rosary Hill College during the years Mary Lou attended there.
Mary is survived by two daughters, Sharon (Paul) Messina of Batavia, and Mary Lou Mancuso of Amherst; step sons, Vincent Mancuso of Boca Raton, FL and Retired Colonel Dominic L. (Angela Miller) Mancuso of Panama City, FL; granddaughters, Shelley (Robert) Bailey of Painted Post and Rebecca (Derk) Hendriksen Messina of Atlanta, GA; step grandchildren, Mary Jo Otto of Pittsford, Michael Mancuso also of Pittsford, and Dominic (Danielle) Mancuso of Victor; Glenn (Renee) Mancuso of Shreveport, LA, Gregory Mancuso of Houston, TX, and Tracy (Steven) Kelley of Panama City, FL; Germaine Irrera, Nathan Mancuso Jr., David (Denielle) Mancuso all of Batavia and the late Stephen Mancuso; great-grandchildren, Robert and Collin Bailey of Painted Post; and Zara and Luca Hendriksen of Atlanta, GA; seven step great-grandchildren and one step great-great grandchild, brother Alex (Mary) Neubert of Batavia, and sister-in-law Gloria (the late Frank) Neubert, along with special nieces and nephews.
Mary was predeceased by her step son Nathan Mancuso Sr., sisters Irene Brenkus, Blanche Schrock and Frances Neubert; brothers John, Julius and Frank Neubert.
Friends are invited to call from 3 to 8 PM on Wednesday, February 29, 2012 at Gilmartin Funeral Home & Cremation Company, Inc. 329-333 West Main Street Batavia, NY 14020. Prayers will be recited 9:00 AM at the Funeral Home on Thursday March 1, 2012 followed by a 9:30 AM Mass of Christian Burial at Resurrection Parish-St. Joseph's Church 303 East Main St. Batavia, NY 14020. Entombment will take place at St. Joseph's Mausoleum, Batavia.
In lieu of flowers, memorials may be made to St. Joseph's School 2 Summit St. Batavia, NY 14020; Notre Dame High School 73 Union St. Batavia, NY 14020; or a charity of the donor's choice. For more information or to sign the online guest registry please visit www.gilmartinfuneralhome.com or call (585) 343-8260. Arrangements completed by Gilmartin Funeral Home & Cremation Company, Inc. 329-333 West Main Street Batavia, New York 14020.