January 23, 2013 - 1:44pm
Mrs. Nolia Camerera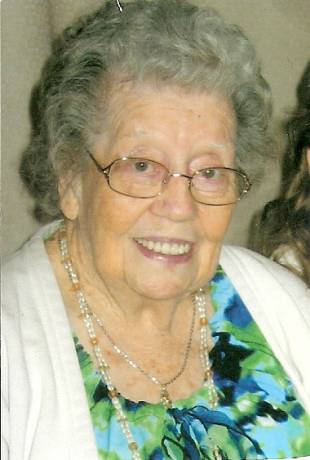 Batavia - Mrs. Nolia Camerera, 94, died Tuesday, January 22, 2013 at Genesee County Nursing Home..
Mrs. Camerera was born October 29, 1918 in Hessner, Louisiana, the daughter of the late Lionel L. and Eugenia   Chatelain.
 Her husband, the late Morris Camerera, died in 1984.
Survivors include one son: Ivan (Linda) J. Camerera of Myrtle Beach. SC;  one sister, Montez Ducote of Louisiana and 5 grandchildren, 9 great grandchildren and  1 great great grandchild.
Friends may call on Friday from 10 to 11 a.m. at H.E. Turner & Co. Funeral Home, 403 E. Main St., Batavia. Her Mass of Christian Burial will be celebrated at  12:00 PM, Friday at Resurrection Parish - St. Joseph Church, 303 East Main Street, Batavia.  Memorials may be made to Resurrection Parish. Burial will be in St. Joseph's Cemetery, Batavia.
Please leave a condolence, share a story or light a candle at www.bataviafuneralhomes.com.