September 28, 2013 - 9:17pm
Roxanna L. Farrington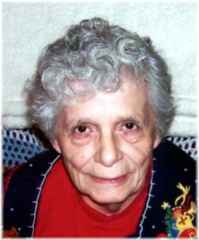 Roxanna L. Farrington, 76 of Batavia, passed away on September 28, 2013at the United Memorial Medical Center. She was born on August 22, 1937 in Batavia to the late Charles (Eleanor Wright) Richmond. Mrs. Farrington worked for many years as a cook at the D & R Depot and the Red Osier Landmark. She is a United States Army veteran, serving as a cook from 1955-1957. Roxanna loved reading, music, knitting and most of all her grandchildren. She is preceded in death by a son James Thompson Jr.
She is survived by her beloved husband Eldon J. Farrington of Batavia; sons Eldon (Jen) Jr. of Albion; Jeffrey of LeRoy; Richard (Laird) of Rochester; Gregory of Batavia; Keith of Batavia; Timothy of Webster; Kevin Farrington of Batavia; daughters Cheryl (Pat) Coonen of CA; Erin Farrington of Attica; Kellie (Scott) Beechler of Batavia; daughter-in-law Angela Thompson of Batavia; brother Charles (Sandra) Richmond Jr. of Elba; sister Alice Grady of Batavia; childhood friend Joyce (Richard) Godlove of Stafford; 13 grandchildren, 19 great-grandchildren along with several nieces and nephews.
Friends are invited to call on Tuesday October 1, 2013 from 4 to 8 PM at Gilmartin Funeral Home & Cremation Company, Inc. 329-333 West Main St. Batavia, New York 14020. Funeral Services will be held 11:00 AM on Wednesday October 2, 2013 at the Oakfield Community Bible Church 80 North Main St. Oakfield, New York 14125. Interment will take place in Maple Lawn Cemetery, Elba.
Memorials may be made to the Family for distribution to various charities. For more information please call 343-8260 or to sign the online guest registry go to www.gilmartinfuneralhome.com. Arrangements completed by Gilmartin Funeral Home & Cremation Company, Inc. 329-333 West Main Street Batavia, New York 14020.