October 28, 2013 - 8:17am
FREEMAN E. EDGERTON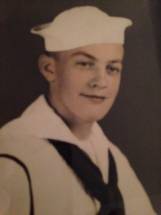 Batavia – Freeman Edgar Edgerton, 86, of Sunset Terrace passed away peacefully in his sleep at home early Saturday morning (Oct. 26, 2013). Mr. Edgerton was born May 6th, 1927 in Batavia, a son of the late Clayton and Mabel (Millis) Edgerton, and a grandson of former Genesee County Sheriff Freeman, and Susan (Phelps) Edgerton. As a boy Freeman worked on various family farms in Elba and Barre. He graduated from Batavia High School in 1944. While attending BHS he completed the requirements for New York State Certification as an industrial machinist, in addition to earning his educational diploma. He then obtained an Associates degree in Mechanical Engineering from Erie Community College.
            Freeman turned seventeen in May of 1944, graduated from High School in June, and enlisted in the U.S. Navy in July. He served with honor in the U.S. Navy as a Ship's Cook Third Class and a Master Gunner, where he received a Bronze Medal while serving aboard the U. S. S. Tyrrell. He was also awarded an American Theatre Medal, Philippine Liberation Medal, Asiatic Pacific Medal Star, and the Victory Medal.
            After completing service in the Navy, Freeman enlisted in the U.S. Army where he served as a Corporal in Company B 716th Military Police Battalion. He later served as a Master Drill instructor preparing recruits for the Korean War Conflict. While stationed with the Military Police in Hyannis, Massachusetts he met and fell in love with his future bride Dorothy Landon of New Jersey.  Freeman was a lifelong employee of R. E. Chapin Manufacturing in Batavia, NY. Like his father Clayton he was a gifted tool and die engineer.
            For many years, he served as the Supervisor of the Tool Room and was instrumental in the development and maintenance of industrial equipment and machines relating to the production of industrial sprayers. In 1954, Freeman was involved in a major explosion that destroyed a significant portion of R. E. Chapin. He miraculously survived and continued to work there until his retirement in 1989. Freeman was also well known within Genesee County for his exceptional ability in building Open Wheel Sprint Cars and high performance racing engines. Freeman was extremely involved in the sport of Go-Kart racing at the local and national levels, where he captured many championships as a racer in various classes.
            During his lifetime, Freeman was a member of the Batavia Masonic Temple, the Batavia Moose Lodge, Limerock Speedway, and the local C. B. Club. He is predeceased by infant son Thomas Clayton Edgerton, and survived by his loving wife of almost 65 years Dorothy D. Edgerton, two sisters Marilyn Beechler of Batavia and Susan Carlson of Delaware, his children Linda (Ken) Butler-Weddington of Indiana, Janet Edgerton of Batavia, and Timothy (Lettie) Edgerton of Oakfield, ten grandchildren, Frank Jarkiewicz, Tammy Siford, Jennifer Huff, Shelley Tallon, Thomas Horton, Erin Verratti, Afton and Ashleigh Butler, Kasey and Emily Edgerton, and 16 great-grandchildren, along with many nieces and nephews.
            Freeman was a devoted husband, father, grandfather, and friend, who also adored his two canine companions Missy and Bella. Family and friends may call from 4-7 p.m. Tuesday at the H. E. Turner & Co. Funeral Home in Batavia. His service will be held at 10 a.m. Wednesday at H.E. Turner & Co. and internment with military honors will follow at Maple Lawn Cemetery in Elba. In lieu of flowers the family asks that donations be made to Buffalo Women and Children's Hospital, and the American Diabetes Association.   To share a story, light a candle or send a condolence, please visit www.bataviafuneralhomes.com.