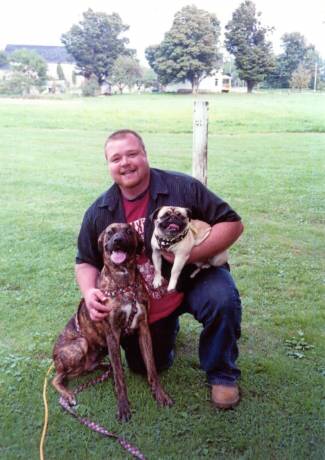 Oakfield – Jeffrey E. Muntz, 31, of Oakfield, a Fork Lift Operator at US Gypsum, passed away unexpectedly Thursday, (May 15, 2014) at Medina Memorial Health Care System, in Medina.
Mr. Muntz was born March 28, 1983 in Batavia, a son of Roy and Shelly (Waite) Muntz, Jr. of Oakfield.
He greatly enjoyed fishing, riding his wheeler, and his dogs.  Jeff had an incredible sense of humor.  He was a practical jokester who loved to laugh and make others laugh.  He had a heart of gold, and would help anyone he could. 
Jeff will be remembered for his belief that you only live once, for his love of pizza, and most of all, for his smile.
He is the husband of Lindsay Ryan-Muntz, of Bergen.  The two were married June 18, 2011.
Surviving along with his wife and parents are his brothers, Roy Muntz, III of Batavia, Alan and Robert Muntz both of Oakfield; maternal grandparents, Darwin Waite of NC, and Doris Waite of Oakfield; paternal grandparents, Roy and Evelyn Muntz, Sr. of Oakfield; a nephew, Roy Muntz, IV of Batavia.  Several aunts, uncles, cousins, and many dear friends also survive.
He is preceded in death by an uncle, Brett Waite.
Friends may call on Tuesday from 4 to 8 p.m. at Burdett & Sanford Funeral Home, 11 Maple Avenue, Oakfield.  A Memorial Service will be held at a time to be announced by the family.  In lieu of flowers, memorials may be made to the Oakfield Fire Department, P.O. Box 184, 20 Albert Street, Oakfield, NY 14125.  Please share a story, light a candle, or leave a condolence at www.bataviafuneralhomes.com.