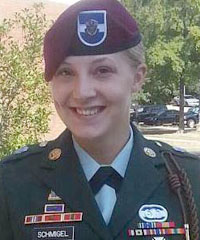 SGT. SHAINA B. SCHMIGEL - Age 21, 82nd Airborne Paratrooper who died Friday evening May 30, 2014 in a training exercise at Fort Bragg, NC, will be welcomed home Monday June 9 to be laid to rest. She was born October 18, 1992 in Batavia, NY to Karie Schmigel of Medina and Kim (Debbie) Dexter of Missouri.
   Shaina was a 2010 graduate of Medina High School where she was very involved in school activities including track, cheerleading and winterguard. After graduation she enlisted in the United States Army to follow her dream of being a soldier. She began as a Military Intelligence Analyst and attended basic combat training at Fort Jackson, SC followed by Advanced Individual Training at Fort Huachuca, Arizona. Upon completion of her Military Intelligence training, SGT Schmigel attended the United States Army Airborne School in May of 2011 becoming a proud member of the Airborne community.
   SGT Schmigels first assignment was to Bravo Company, 2D Brigade Special Troops Battalion where she served as an Intelligence Analyst and a Signal Intelligence Analyst. She deployed to Iraq in the summer of 2011 in support of Operation New Dawn where she was instrumental in providing the Brigade Commander with real time situational awareness on the enemy during stressful combat conditions.
   Upon return from Iraq SGT Schmigel was assigned to HHC, 37th Engineer Battalion, where she participated in one rotation to the Joint Readiness Training Center and several Brigade and Battalion level training exercises. SGT Schmigel had also attended the Warrior Leaders Course.
   Her awards and decorations include the Army Commendation Medal, Army Achievement Medal (2), Army Good Conduct Medal (2), National Defense Service Medal, Iraq Campaign Medal with one Campaign Star, Global War on Terrorism Service Medal, Army Service Ribbon and the Parachutist Badge.
   She enjoyed video games, camping at Watkins Glen for the annual Nascar race, country line dancing and weekends in North Carolina were for her passion, Rodeo!
   Surviving along with her parents are her sister, Sheniqua Samol of Medina; brother, Matthew Scroger of Lackawanna; half-sisters, Amanda, Kaycee & Samantha Dexter; maternal grandparents, Donald K. (Susan) Schmigel Sr. of Corfu; maternal great-grandmother, Betty Quackenbush of LA; paternal great-grandmother Nora Steele of Oakfield; uncle, Donald K. (Jennifer Zynda) Schmigel Jr. of Corfu; many dear friends along with her military family in North Carolina.
   Family and friends may visit from 2-8 p.m. Tuesday June 10, 2014 at the Michael S. Tomaszewski Funeral & Cremation Chapel, LLC 4120 West Main Street Road Batavia, New York 14020 where a Celebration of Shaina's Life will take place 11:00 a.m. Wednesday June 11, 2014. She will be laid to rest with Full Military Honors in Evergreen Hill Cemetery, Corfu, New York. Memorials can be made in care of Shaina's family to be used for a future donation in her memory.           
Please share your memories of Shania, with her family at www.tomaszewskifh.com and for more information call Michael at (585)343-7500. 
THE FAMILY OF SGT. SHANIA B. SCHMIGEL IS BEING CARED FOR BY THE MICHAEL S. TOMASZEWSKI FUNERAL & CREMATION CHAPEL, LLC 4120 WEST MAIN STREET ROAD BATAVIA, NEW YORK 14020.