February 16, 2019 - 9:25pm
Mary Ann Bowen
posted by
Ronald Konieczny
.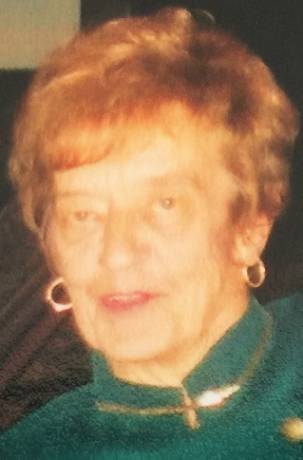 Mary Ann Bowen of Batavia, passed away peacefully on Wednesday, February 13, 2019, following a prolonged illness. She was born October 9, 1933 in Batavia, a daughter of the late John and Catherine Mucha Mazur.
Mary Ann was employed as a Registered Nurse for the former St. Jerome's Hospital, Director of Nursing at St. Luke's Manor and Genesee Homemakers prior to her retirement. Mary Ann was a longtime parishioner of St. Mary's Church in Batavia.
She enjoyed dancing, gardening, camping and travel, but her life was devoted to family. Her children and grandchildren were her pride and joy. Mary Ann's most precious gift was to instill the importance of loyalty and love of family to them. The grandchildren added a new and vibrant chapter to her life and she spent countless hours in their company.
Through the years Mary Ann was actively engaged in community, school and parish activities. She was the St. Mary's PTA chairperson, baked thousands of cookies for school events, worked at Bingo, attended athletic events and supported the Batavia city park program. Mary Ann and Bob also owned and operated Bowen's Ice Cream truck for seven years in the city of Batavia.
She was predeceased by her husband, Robert Bowen Sr. and son, Michael Bowen.
A sister of the late Walter Mazur (Betty) of Niagara Falls, NY, the late John Mazur (Alice) of Batavia, NY, Richard Mazur (Barbara) of Batavia, Helen Boorom (Reginald) of Batavia, and Rose Sheelar (George) of Malone, NY.
Survivors include her sons, Robert (Ingrid) Bowen of Elba, John (Wendy) Bowen of Batavia and Daniel (Tara) Bowen of Wilmington, NC. Daughters, Margaret (Bruce Jones) Bowen of New York, NY, Kathleen Bowen of Grand Ledge, MI, Mary Beth Bowen of San Antonio TX, and daughter in law Denise Bowen of Elba, NY. Also survived by 13 grandchildren Ben (Lauren), Brian (Chandra), Brandon, Zachary, Seth (Amanda), Hannah, Ryan, Mike, Lexee, Luke, Justin, Daniel, Allison and six great-grandchildren. Brylee, Bevin, Bristol, Kailyn, Kaden and Charlotte.
Calling hours are Friday February, 22nd from 2-4 and 7-9 pm at the J. LEONARD McANDREW FUNERAL HOME, LLC, 2 BOGUE AVE., BATAVIA, NY.  Mary Ann's Mass of Christian Burial will be celebrated on Saturday, February 23rd at 9:30 am at Resurrection (St. Mary's) Parish, 18 Ellicott St., Batavia.
Memorial contributions may be made to the family. Expressions of sympathy can be shared with the family at: www.mcandrewfuneralhomes.net. 
ARRANGEMENTS WERE ENTRUSTED TO THE J. LEONARD McANDREW FUNERAL HOME, LLC, 2 BOGUE AVE., BATAVIA, NY 14020., RONALD KONIECZNY II, DIRECTOR.