December 19, 2019 - 6:05pm
Joan R. Oderkirk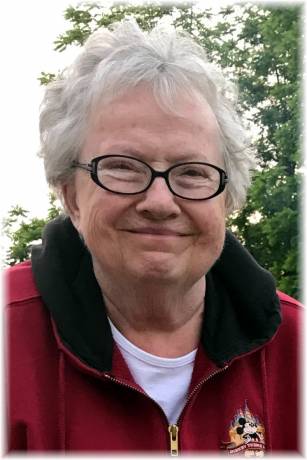 Joan R. Oderkirk, 80 of Batavia, passed away peacefully surrounded by her loving family and best friend Doreen Johns on Thursday, December 12, 2019 at United Memorial Medical Center in Batavia. She was born in Saranac Lake, NY on November 12, 1939 to the late John (Marguerite Buckley) Ryan.
Joan is the youngest of 13 children and also a twin. She worked as an elf at Santa's Workshop at the North Pole in Wilmington NY. She was proud to be included on the Viewmaster 1956 reel and also on the wall of fame in the North Pole museum.
She Graduated from Ausable forks NY high school in 1958; graduated from college of Saint Elizabeth in Convent Station, NJ in 1963 with a BS in home economics; Graduated from Newark State College in Union, New Jersey in 1965 obtaining her teaching certificate. She met her husband while teaching at Ausable Forks high school and the two married June 24, 1967 (on her parent's 50th golden wedding anniversary). She worked for the YWCA After School Adventure program for 23 years as lead teacher (mainly at Jackson school site). All the children knew her as "Mrs. O." Most kids remember her because she taught card games.
Joan along with her husband were founding members of their church, now known as Corner stone church on Bank St. Joan and her husband held church services out of their home while the planning was underway for their new church. Joan was heavily involved in the church, whether it was Sunday service, bible studies or special prayer requests.
Her greatest accomplishment and pride and joy were her three children and six grandchildren. If there were two words to best describe Joan's purpose on earth, they would be her unwavering faith and loving family. Joan will be sorely missed by all that knew and loved her yet we rejoice with all who are welcoming her in heaven.
Joan is survived by her beloved husband of 52 years, Richard Oderkirk Sr. of Batavia; children Richard (Beth) Oderkirk Jr. of Strongsville, OH; James (Heather) Oderkirk of Akron, OH; Mary Thomas of Bergen; 6 grandchildren Jared, Ryan, Aiden, Kyle, Cassandra, Emma, along with many nieces and nephews.    
An 11:00 AM Celebration of Joan's Life will be held on Saturday, January 4, 2020 at Cornerstone Church, 8020 Bank Street Road, Batavia, New York 14020.  
In lieu of flowers memorials may be made to the church or to Alzheimer's Association, Western New York Chapter, 6215 Sheridan Dr. Suite 100, Buffalo, NY 14221. For more information please call (585) 343-8260 or to leave a message of condolence visit www.gilmartinfuneralhome.com. Arrangements completed by Gilmartin Funeral Home & Cremation Company, Inc., 329-333 West Main Street, Batavia, NY 14020.