January 16, 2020 - 10:39am
Robert J. Graham Jr.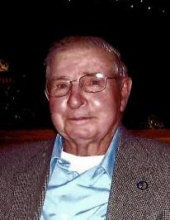 Robert J. Graham Jr., age 99 of Hunt, New York passed away on Monday January 13, 2020 at the NYS Veterans Home at Batavia. He was born in Leicester, New York on January 12, 1921, a son to the late Robert John and Eloise Goodwin (Horton) Graham Sr. Along with his parents he is preceded in death by his wife Gladys Ellen (McBride) Graham who passed away in 2013, a sister and her husband: Erestine (George) Cox.
Robert was a 1928 graduate of Perry High School. He served with the US Army Air Corp during WWII. Robert was a farmer his entire life owning Oxbow Farms in Hunt. He was a member of the Portageville Baptist Church, Farm Bureau of Livingston County. He was active in the 71st squadron Fighter Group through the US Air force. He enjoyed playing euchre and bridge with friends, reading, restoring antique tractors, working on his sawmill at the farm, was a history buff particularly in WWII, and spending time with his family and lifelong friends.
He is survived by 3 daughters: Pemba (Dwight) Harder of Castile, Kathryn (Stephen) Lewis of Hunt, Christina (David) Vanderbosch of Prattsburgh, 1 son: Rodney (Linda) Graham of Hunt, a brother: Gerald (Madeline) Graham of Perry, 17 grandchildren: Janet (Kary) Lewis Forth, Jeremy (Barbara) Harder, Molly (Peter) Vanderbosch Sauder, Jessie (Kelvin) Vanderbosch Slayton, Erin (Jonathan) Vanderbosch Slayton, Robert Graham (Juanita) Vanderbosch, Hannah (Nathan) Vanderbosch Charles, Asa Vanderbosch, Mary Ellen (Phillip) Vanderbosch Nissley, Jabob, Jerusha and Laura Vanderbosch, Eloise (Kyriakos) Graham Kyriakou, Caitlin Graham, Rebecca (Ari) WolfeCooperman, Emily (Daniel) Wolfe Schulz and Matthew (Krista) Wolfe, 24 great-grandchildren, 7 great-great grandchildren, along with several nieces and nephews.
Family and friends may call from 2-4 and 7-9pm on Monday January 20th at the Eaton-Watson Funeral Home, LLC. 98 North Main St. Perry, NY 14530. Funeral Services will be held on Tuesday January 21st at 11:00AM at the Funeral Home. He will be laid to rest in Glenwood Cemetery in Perry.
Memorial contributions may be made to the Portageville Baptist Church 6668 Pike St, Portageville, NY 14536 or to the Nunda Volunteer Ambulance PO Box 652 Nunda, NY 14517. For more information please call (585) 237-2626 or to leave a message of condolence visit www.eatonwatsonfuneralhome.com. Arrangements completed by Eaton-Watson Funeral Home, LLC. 98 North Main Street, Perry, New York 14530.