July 10, 2020 - 9:20am
Myrtle E. Burrell
posted by
LaVern Falcone
.
LeRoy ~ After a brief illness, Myrtle E. Burrell died peacefully on July 5, 2020 at the age of 92.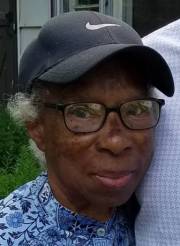 Myrtle was born on December 18, 1927 in Rochester, NY.  She graduated from Madison High School and worked at Sylvania until her retirement.
     Myrtle was predeceased by her parents, Arthur and Marie Alligood, and her siblings, Louis, Dorothy, Ida, and James. She was also predeceased by her husband of nearly 70 years, James Roy Burrell, II.  Together, they made their home in LeRoy, NY and were surrounded by an outstanding community of neighbors and friends. It was only after her retirement from Sylvania that she found her calling in a job with the Leroy Police Department in September 1984 as the crossing guard for Wolcott Street School. She loved her job and wasn't afraid to use her whistle as many community members will remember fondly about her.
     Myrtle loved her family immensely and is survived by her son, James (Lillian) Burrell, III, her grandchildren, Matthew (Corlin) Burrell, Gregory (Jennifer) Burrell, Danielle (Gregory) Grzymala, Brendan Burrell, eleven great-grandchildren, one great-great-grandson and several nieces and nephews.
     The family will hold a private ceremony in her honor.
     In lieu of flowers, contributions in memory of Myrtle are suggested to the LeRoy Village Green Nursing Home, 10 Munson St., LeRoy, NY 14482.
    Your memories and condolences may be shared with Myrtle's family at www.falconefuneralhome.com.
     Mrs. Burrell and her family are being cared for by the Falcone Family Funeral & Cremation Service Inc. in LeRoy.  585-768-2400