November 7, 2020 - 8:47pm
Theodore H. "Ted" Cassidy
posted by
LaVern Falcone
.
Pavilion ~ Theodore H. "Ted" Cassidy, age 85, of South Lake Road, passed away Friday morning (November 6, 2020) at home surrounded by his loving family.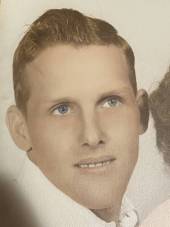 He was born September 7, 1935 in Bradford, PA, a son of the late Howard and Esther Wing Cassidy.
     Ted will be remembered in the surrounding communities for his love of scrapping.  He and his loving wife, Ruth, could be seen traveling back and forth to the various scrap yards in the area.  Ted also had another love, and that was his love for his family.  He was a caring and devoted husband, father, grandfather, great-grandfather, great-great-grandfather, brother and uncle. 
     He will be sadly missed by his loving wife of 62 years, Ruth Carney Cassidy; his beloved dog, Buddy; his children, Cinthia Seppe (Don), Irene (Randy) Clark, Glenn (Delcina) Cassidy and Donald (Barb) Cassidy; his siblings, Blanche (Anthony) Gerace, David Cassidy, Gerald (Wendy) Cassidy, Rosemary (Wayne) Southcott, Robert Cassidy and Raymond (Cora) Cassidy; 15 grandchildren, 23 great-grandchildren, 8 great-great-grandchildren, along with several nieces, nephews and dear friends.
     In addition to his parents, Ted was predeceased by his children, Shirley and Theodore Jr. and his siblings, Donald, Gordon, Ruth, Marion Louise and Thomas.
     Family and friends may call on Monday, November 9 from 10 AM ~ 1 PM at the Falcone Family Funeral & Cremation Service Inc., 8700 Lake Road (Rt. 19), LeRoy. (Funeral home occupancy will be limited to 33% capacity during the course of visitation and face masks will be required.) Services will be private.
     In lieu of flowers, memorials may be made to Ted's family.
     Your memories and condolences may be shared with Ted's family at www.falconefuneralhome.com.