November 16, 2020 - 3:47pm
Charles A. Herman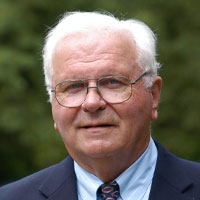 Charles A. Herman, 87, of Corfu, passed away peacefully Saturday, November 14, 2020, at the home of his daughter and son-in-law with his family by his side, after a brief battle with cancer.
Chuck, as he was known to all his family and friends, was born on December 11, 1932 in Batavia,
son of the late Albert and Hazel Beach Herman. He was predeceased by his wife, Eleanor Peterson Herman; his granddaughter, Nicole Elizabeth Herman and his sister's, Phyllis B. Fauth and Ruth Lennon Case.
Chuck was the Salutatorian of the Corfu High School Class of 1950. He started work at the family business, C. B. Beach & Son Mortuary on July 3,1950, becoming the 3rd generation to work in the business. Chuck was a licensed funeral director for over 66 years. Chuck was a member of the Corfu United Presbyterian Church for 75 years and was very active in many roles at the church but was most dedicated to the Chancel Choir as he loved to sing. His favorite pastimes were reading, watching TV and being with his family. He will be deeply missed by all who knew and loved him.
Surviving is his beloved wife of 17 years, Patricia J. (Sliker Brown) Herman; his dear children, Charles B. (Lori) Herman, Julie A. (Patricia Marvin) Herman, Richard B. (Nicole Hornstein) Herman and Elizabeth A. "Betsy" (Sander) Abramson; three precious grandchildren, Jason Herman, John Bauduin and Jessie (Michael) Molle'; four cherished great grandchildren, William Graham Molle', Alexander John Bauduin, Jack Charles Molle' and Kate Elizabeth Molle'; his stepchildren, Cynthia (William) White, Douglas (Tammy) Brown, Darlene (Mark) Bramley and Laurie (Tracy) Rudolph; twelve step grandchildren and 14 step great grandchildren. Several nieces and nephews also survive.
Family and friends may call Thursday, November 19th from 6 to 8 p.m. and Friday, November 20th from 2 to 4 and 7 to 9 p.m. at the C. B. Beach & Son Mortuary, Inc., 4 East Main Street, Corfu, NY. 
A memorial service will be held Saturday, November 21st at Twelve O'clock Noon at St. Maximilian Kolbe Church Hall, 8656 Church Street, East Pembroke, NY. Burial will be private in Evergreen Hill Cemetery, Corfu, NY. We will be following all New York State Covid guidelines and those in attendance must wear a mask and maintain social distancing.
In lieu of flowers, memorials may be made to the Corfu United Presbyterian Church, PO Box 159 Corfu, NY 14036, the Indian Falls Fire Department 8030 Alleghany Road Corfu, NY 14036 or the Indian Falls United Methodist Church Men's Group, 7908 Alleghany Road Corfu, NY 14036.