January 15, 2021 - 3:25pm
Rosemary W. Caito
posted by
LaVern Falcone
.
Rochester, NY ~ Rosemary W. Caito, age 90, formerly of Batavia, died Friday (Jan. 15, 2021) at The Friendly Home in Rochester, NY.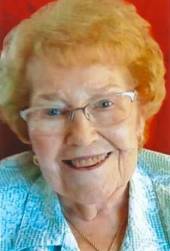 Rosemary was born in Buffalo, N.Y., a daughter of the late William H. Watkins and Marguerite Maxwell.  She was predeceased by her husband of 62 years, Samuel J. Caito in 2014.
     She is survived by six children; Paul J. Caito of Rochester, Mary Eileen Caito of Amherst, Karen M. Caito of Painted Post, Patrice Caito of Penfield, Michael D. (Donna) Caito of Penfield and Catherine M. Caito (Douglas Wigton) of Batavia; grandmother of Patrick Caito Stevens, Maxwell Stevens, Alyson Caito, Andrew Caito and Haley Caito.  Also survived by her brother, Paul (Joan) Watkins of Amherst and many nieces and nephews.  She was predeceased by her brothers and sisters; J. William (Evalyn) Watkins, Jean (Teresa) Watkins, James (Mary) Watkins, Margaret Mary (Henry) Zugger, Joan (Frank) Gerace and Sr. Patricia Watkins, GNSH.
     Rosemary was a 1948 graduate of The Academy of the Sacred Heart, which at the time was under the auspices of the Grey Nuns of the Sacred Heart.  She was a long time member of St. Mary's Altar & Rosary Society and the St. Jerome Hospital Guild.  We celebrate her life as a devoted wife, mother, grandmother, sister, aunt and friend.  She gave unselfishly to her family always placing their needs before her own.  Her deep Catholic faith was her life's guide.
     Due to Covid restrictions, a private Mass of Christian Burial will be held at Resurrection Parish, St. Joseph's Church Site, Batavia.  Entombment in St. Joseph's Cemetery, Father Kelly Mausoleum.
     In lieu of flowers, memorial contributions may be made to either Grey Nuns of the Sacred Heart, 14500 Bustleton Avenue, Philadelphia, PA 19116 or Notre Dame High School.
     Your memories and condolences may be shared with the Caito family at www.falconefuneralhome.com.