February 8, 2021 - 1:42pm
Myrtle "Mert" Gilbert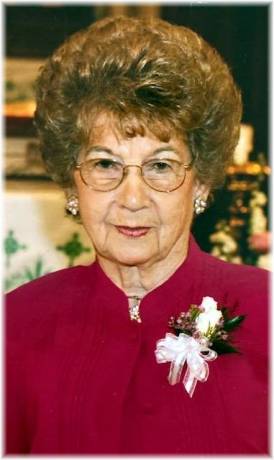 Myrtle "Mert" Gilbert, 97 of Batavia, passed away on Saturday, February 6, 2021 at Villages of Orleans in Albion. She was born April 29, 1923 to the late Alfred C. (Margaret Kinsella) Baker. She is preceded in death by her husband Earl E. Gilbert whom she married November 8, 1941 and he passed away January 3, 1993. Also preceded in death by daughters Patricia H. (Andrew) Zigrossi, Anne M. Moore, grandchildren Lisa M. Moore, Patrick D. Moore, Daniel R. Gilbert, siblings Mary Dusel, Margaret Ellingham Carroll, David Baker.
Mrs. Gilbert was a member of Holly Name of Mary RC Church in East Pembroke for over 70 years, Holy Name Society, Bereavement Committee and received the St. Joseph's Medal of Honor Award. She enjoyed gardening, flowers and baking.
She is survived by her son Ronald (Wanda) Gilbert, son-in-law Leon Moore, grandchildren Dawn (Kevin) Fisher, Denise (Darrin) Bull, Mary Anne (Lisa Carter) Moore, Leanne (Kris) Lickfeld, Christopher (Stephanie) Zigrossi, Todd (Carrie) Zigrossi, Susan Gilbert, great-grandchildren Erika (Jason) Ranlett, Colleen M. Fisher, Jessica (Dale) Brumsted, Matthew and Jenna Gilbert, Sara, Julia and Emily Zigrossi, great-great-grandchildren Isabella George, Penelope and Natalie Ranlett, Hunter and Amelia Brumsted, Abraven Chamberlain, along with many nieces and nephews.
There are no prior calling hours. A Mass of Christian Burial will be held for the family. She will be laid to rest in St. Cecilia's Cemetery, Oakfield. 
In lieu of flowers, memorials may be made to St. Maximilian Kolbe Parish, 18 West Main St., Corfu, NY 14036 or to St. Padre Pio Parish, 56 Maple Ave, Oakfield, NY 14125. For more information please call (585) 343-8260 or to leave a message of condolence visit www.gilmartinfuneralhome.com. Arrangements completed by Gilmartin Funeral Home & Cremation Company, Inc. 329-333 West Main Street, Batavia, New York 14020.