February 9, 2021 - 11:12am
Evelyn Jane (Carpenter) Gorny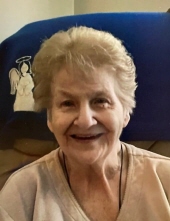 It is with deep sadness that we share with family and friends the passing of our dearest mother Evelyn (Carpenter) Gorny. Mom was lifted into Heaven by Angels on January 29, 2021 at the age of 89 at East Side Nursing Facility where she had been a resident for several years.
Mom was born on April 7, 1931 in Attica; a daughter of the late Everett and Julia (Barney) Carpenter.
She was the beloved wife of Arthur Gorny Sr., her one and only love (her Honey) who passed away on August 2, 1994. She was also predeceased by her sons Arthur Gorny Jr.; Steven Gorny and her brothers; Everett Carpenter and James Dunn; also a special granddaughter Sassy.
Surviving is her sister Catherine Kubala; her children, Paul (Marcia) Gorny, Gale (Ron) Walters, Teresa (Mark) Smith, Linda Feeley, Richard (Sharon) Gorny, Mark Gorny, Philip (Tina) Gorny, along with many grandchildren, great-grandchildren; great-great-grandchildren, and many nieces and nephews. She loved her children and only wished the best for each of them.
Mom was an amazing cook. Anything from cookies to a pot roast was mouthwatering. As a mother of 9 children anything that could be canned or processed certainly was. Her embroidery skills were amazing; from table linens to pillow cases. She enjoyed playing Bingo with the residents at East Side Nursing Home and was overjoyed when a prize was won. The activities employees are truly caring and kind. Mom could listen to "Elvis" for hours. Her favorite song was "Love Me Tender". "Oh" he's so handsome were words often spoken by mom. She so loved all flowers and vary much appreciated the many bouquets that she received during her time at East Side. Mom anxiously awaited the arrival of the Humming Birds each spring and admired their beauty. One luxury she gave herself was to visit her hairstylist weekly.
What do you say to a mother who is largely responsible for who you are as a person? We say thank you Dear Mother. Thank you for being our support when it was needed. Thank you for teaching us good moral values. Thank you for allowing us to know you as the kind hearted person that you are. We are so grateful to have had you as our mother and cherish the times we had together. So please Guardian Angels, take our thank you's and gently deliver them to our Dearest Mother and may she always know how deeply she loved and how very much she will be missed.
As I was leaving the Nursing Facility not knowing that it will be my final visit with my mother a very caring individual spoke these caring words to me. "There are no wasted tears if they are tears for your mother." I lovingly agree. Thank you Mel.
Friends are invited to call on Friday, February 12, 2021 from 4 to 7 PM at Marley Funeral Home, LLC, 135 Main Street, Attica, New York 14011. She will be laid to rest in Varysburg Cemetery.
Memorial contributions can be made to East Side Nursing Home Activities Department, 62 Prospect Street, Warsaw, NY 14569 or the American Diabetes Association, P.O. Box 7023, Merrifield, VA 22116-7023. For more information please call (585) 591-1212 or to leave a message of condolence visit www.marleyfuneralhome.com. Arrangements completed by Marley Funeral Home, LLC, 135 Main Street, Attica, NY 14011.