February 9, 2021 - 1:45pm
Richard H. Kern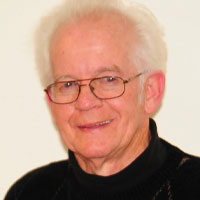 Richard H. Kern, 84, of Corfu, passed away peacefully on Sunday, February 7, 2021, from complications from COVID-19 at United Memorial Medical Center, Batavia. It was 1 day before his 85th birthday.
Dick was born on February 8, 1936 in Batavia, son of the late Harold and Alice Bartholf Kern. He was the beloved husband of Shirley A. Kern, who passed away Monday, February 1, 2021. 
Dick worked for 39 years at William's Poultry Farms. He was active in the Pioneer Men's Club, enjoyed snowmobiling but most of all riding on his John Deere tractor mowing his lawn. His 14 acre lawn looked like a park!
A kind and generous man who loved to tell a story! His charm and wit was infectious. But most of all he was a loving husband and amazing dad and Grandpa!
Dick is survived by his daughters, Carol Kern, Brenda Caudle, Debbie Kern and Patti Kern; grandchildren, Stephen (Kathy) Messa, Jessica Messa, Jacob R. Kern-Mireles, Jana (Ben) Glatt, Jami Saladin and Lucas Saladin; two great grandchildren, Xavier and Avi Messa and soon to arrive Theodore Glatt.
Family and friends may call Thursday, February 11, 2021 from 2 to 4 and 7 to 9 p.m. at the C. B. Beach & Son Mortuary, Inc., 4 East Main Street, Corfu. Funeral services will be held Friday, February 12, 2021 at 11 a.m. at the mortuary. Masks and social distancing are mandatory. 
In lieu of flowers, memorials may be made to Dollars for Scholars at Pembroke High School.