February 9, 2021 - 2:40pm
Shirley A. Kern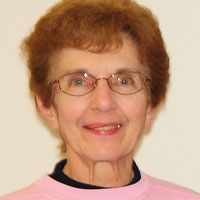 Shirley A. Kern, 85, of Corfu, entered into heaven into the arms of the Lord on Monday, February 1, 2021, from heart and lung complications from COVID-19 at United Memorial Medical Center, Batavia.
Shirley was born on October 16, 1935 in Batavia, a daughter of the late Dorothy Bialoblocki Feitshans Pollard and Paul Feitshans. She was the beloved wife of Richard H. Kern, who passed away Sunday, February 7, 2021. She is predeceased by her brothers, Jim and Gene Feitshans; sisters, Joyce Ceisner and Helen Stalica.
Shirley worked for 22 years as a clerk/carrier for the United States Post Office in Corfu. She was a longtime Town of Pembroke Historian along with Lois Brockway. An avid bowler in her younger days, she enjoyed working in her yard and knew all the Latin names for all her flowers. Her gardens were a sanctuary of beauty and peace. The queen of couponing ~ a skill she passed down to her daughters. Shirley was the girl scout leader for her daughters which formed lifelong friendships. 
Loving wife, awesome mother and fun grandma! These are all words to describe Shirley…….A kind and beautiful soul with a smile for all who entered her home.
Shirley is survived by her brothers; Bill (Bev) Feitshans and Kenneth (Sue) Feitshans; her daughters, Carol Kern, Brenda Caudle, Debbie Kern and Patti Kern; grandchildren, Stephen (Kathy) Messa, Jessica Messa, Jacob R. Kern-Mireles, Jana (Ben) Glatt, Jami Saladin and Lucas Saladin; two great grandchildren, Xavier and Avi Messa and soon to arrive Theodore Glatt; sister-in-law Betty Lou Feitshans; brother-in-laws, Doug Ceisner and Victor Stalica. Several nieces and nephews also survive.
Family and friends may call Thursday, February 11, 2021 from 2 to 4 and 7 to 9 p.m. at the C. B. Beach & Son Mortuary, Inc., 4 East Main Street, Corfu. Funeral services will be held Friday, February 12, 2021 at 11 a.m. at the mortuary. Masks and social distancing are mandatory. 
In lieu of flowers, memorials may be made to Brick House Corners Fair.
Thank you for all the angels that lovingly cared for Mom this past year. You know who you are! We are eternally grateful!