March 30, 2021 - 3:05pm
Gwendolyn Marie Williams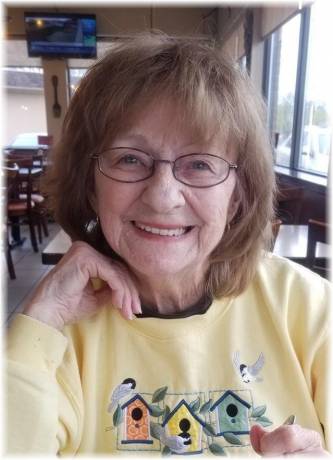 Gwendolyn Marie Williams (ne: Kabel), 86, of Batavia went home to be with the Lord on Palm Sunday, March 28, 2021. She was born on November 12, 1934 in Batavia, NY. Daughter of Fredrick and Marie Marks-Kabel. She had been retired from P.W. Minors after 35 years and also The Willow Bend Inn.
Gwen, better known to everyone as Mema, was a very caring, loving, devoted mother, grandmother and great-grandmother, and most of all, a friend. She was a busy body, spending the majority of her time looking out and providing for those she cared about. She enjoyed being surrounded by family the best. A shining light to anyone who met her.
She is survived by children James (Cindy) Williams of GA, Don Williams of Batavia, Bob Williams of Batavia, Kim Williams (Howard) of Batavia, Karen Williams (Timmy) of NC, Scott Williams (Stephanie) of Batavia. Two brothers John (Carol) Kabel, and Tim (Becky) Kabel. Three sisters, Sharon Kilby, Sandy (Ray) Mickey, and Judy Clark. 15 Grandchildren, 27 Great-Grandchildren and many, many nieces and nephews whom she adored greatly.
Along with her parents, father Fredrick Kabel, and mother Marie Marks-Kabel, Gwen is predeceased by her siblings Robert Kabel, Mary Jane Metcalf, Shirley Dunlap, Richard Kabel, James Kabel, Nancy Kabel, Elaine Hoffman and Thomas Kabel.
Friends are invited to call on Thursday, April 1, 2021 from 3 to 7 PM at Gilmartin Funeral Home & Cremation Company, Inc., 329-333 West Main Street, Batavia, NY 14020. An 11:00 AM Celebration of Life will be held on Friday, April 2, 2021 at St. Paul Lutheran Church, 31 Washington Ave, Batavia, NY 14020. She will be laid to rest in Grand View Cemetery, Batavia.  
The Funeral Home and Church will be restricted to 50% of its normal capacity. Face coverings and social distancing are mandatory. Thank you for your understanding and cooperation.
In lieu of flowers memorials may be made to the church. To leave a message of condolence please visit www.gilmartinfuneralhome.com or for more information call (585) 343-8260. Arrangements completed by Gilmartin Funeral Home & Cremation Company, Inc. 329-333 West Main Street Batavia, New York 14020.